Clarence Darrow to Frederick Starr, Sep 29, ????
Click on the image to view as a PDF. A transcription of the letter is on the right.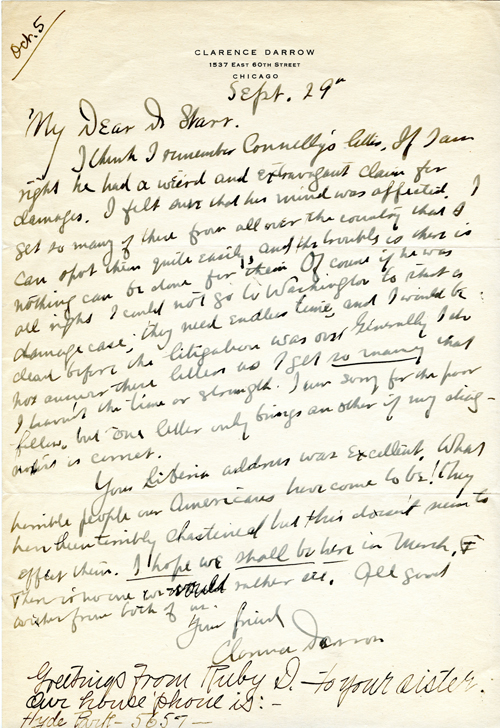 Sept. 29 th
My Dear Dr. Starr.
I think I remember Connelly's letter. If I am right he has a weird and extravagant claim for damages. I felt sure that his mind was affected. I get so many of these from all over the country that I can spot them quite easily, and the trouble is there is nothing can be done for them. Of course if he was all right I could not go to Washington to start a damage case, they need endless time, and I would be dead before the litigation was over. Generally I do not answer their letters as I get so many that I haven't the time or strength. I am sorry for the poor fellow but one letter only brings another if my diagnosis is correct.
Your Liberia address was excellent. What horrible people our Americans have come to be! They have been terribly chastened but this doesn't seem to affect them. I hope we shall be here in March. There is no one we would rather see. All good wishes from both of us.
Your friend
Clarence Darrow
Greetings from Ruby D. to your sister
Our house phone is: –
Hyde Park – 5657 –