Ruby Darrow to Willis Thornton, Dec 30, 1933
Click on the image to view as a PDF. A transcription of the letter is on the right.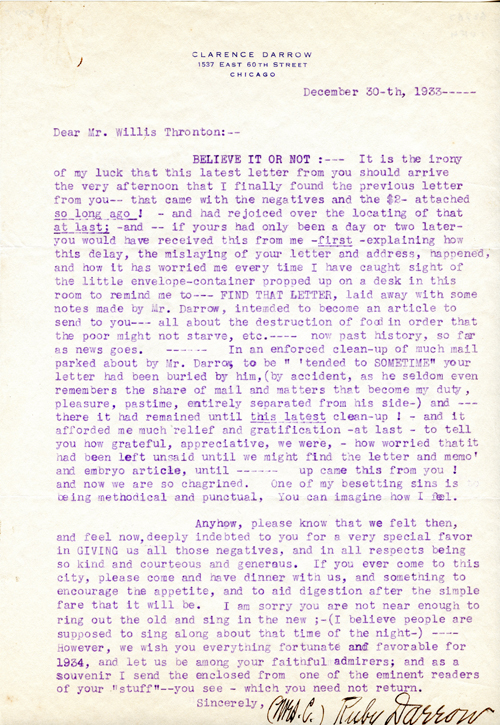 December 30-th, 1933-----
Dear Mr. Willis Thronton (sic) :
BELIEVE IT OR NOT : --- It is the irony of my luck that this latest letter from you should arrive the very afternoon that I finally found the previous letter from you–that came with the negatives and the $2- attached so long ago ! – and had rejoiced over the locating of that at last ; - and – if yours had only been a day or two later – you would have received this from me – first –explaining how this delay, the mislaying of your letter and address, happened, and how it has worried me every time I have caught sight of the little envelope-container propped up on a desk in this room to remind me to --- FIND THAT LETTER, laid away with some notes made by Mr. Darrow, intended to become an article to send to you --- all about the destruction of food in order that the poor might not starve, etc.---- now past history, so far as news goes. ------ In an enforced clean-up of much mail parked about Mr. Darrow, to be " 'tended to SOMETIME" your letter had been buried by him, (by accident, as he seldom even remembers the share of mail and matters that become my duty, pleasure, pastime, entirely separated from his side - ) and --- there it had remained until this latest clean-up! – and it afforded me much relief and gratification – at last – to tell you how grateful, appreciative, we were, - how worried that it had been left unsaid until ------ up came this from you! and now we are so chagrined. One of my besetting sins is being methodical and punctual, you can imagine how I feel.
Anyhow, please know that we felt then, and feel now, deeply indebted to you for a very special favor in GIVING us all those negatives, and in all respects being so kind and courteous and generous. If you ever come to this city, please come and have dinner with us, and something to encourage the appetite, and to aid digestion after the simple fare that it will be. I am sorry you are not near enough to ring out the old and sing in the new; - (I believe people are supposed to sing along about that time of night-) ---- However, we wish you everything fortunate and favorable for 1934, and let us be among your faithful admirers; and as a souvenir I send the enclosed from one of the eminent readers of your "stuff" – you see – which you need not return.
Sincerely,
(Mrs. C.) Ruby Darrow