Ruby Darrow to Mr. Watt, Mar 20, ????
Click on the image to view as a PDF. A transcription of the letter is on the right.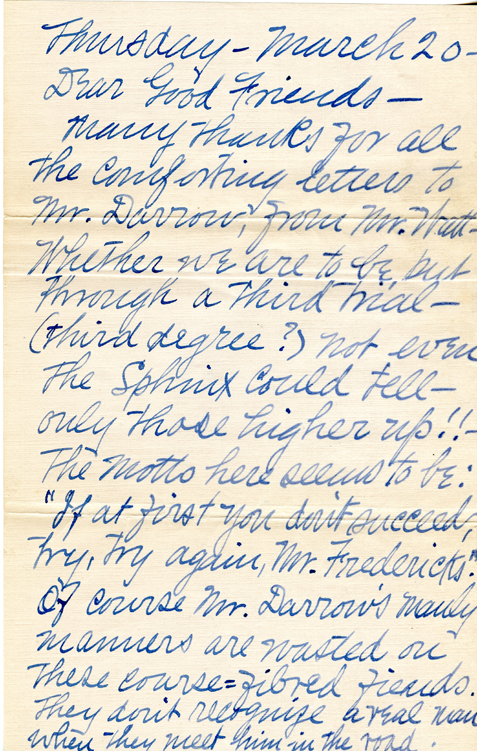 Thursday – March 20 –

Dear Good Friends –

Many thanks for all the comforting letters to Mr. Darrow, from Mr. Watt – Whether we are to be but through a third trial – (third degree?) not even the sphinx could tell – only those higher up!! – The motto here seems to be: "If at first you don't succeed, try, try again, Mr. Fredericks." Of course Mr. Darrow's manly manners are wasted on these course = fibred fiends. They don't recognize a real man when they meet him in the road.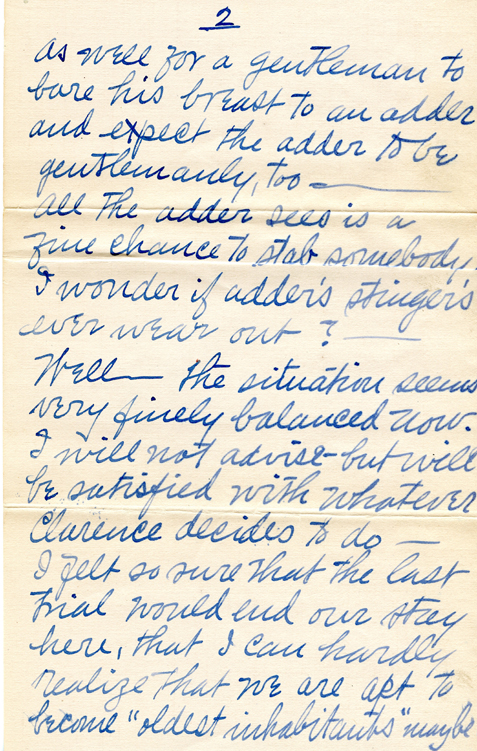 2

As well for a gentleman to bare his breast to an adder and expect the adder to be gentlemanly, too –

All the adder sees is a fine chance to stab somebody. I wonder if adder's stinger's ever wear out? –

Well the situation seems very finely balanced now. I will not advise – but will be satisfied with whatever Clarence decides to do –

I felt so sure that the last trial would end our stay here, that I can hardly realize that we are apt to become "oldest inhabitants" maybe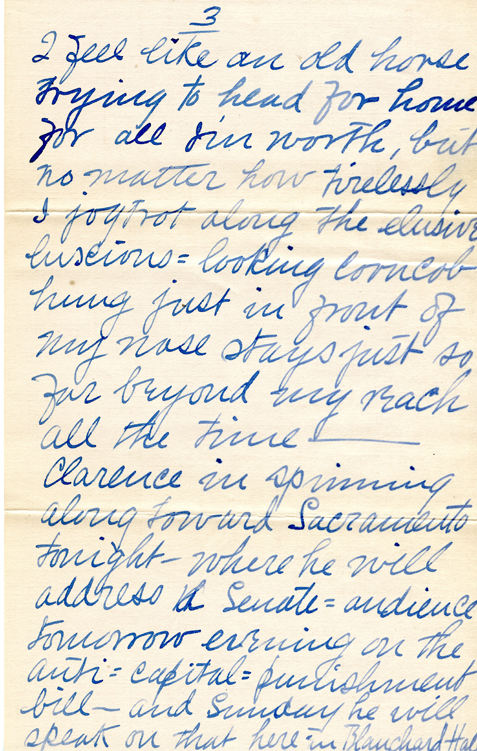 3

I feel like an old horse trying to head for home for all our worth, but no matter how tirelessly I joytrot along the elusive luscious = looking corncob hung just in front of my nose stays just so far beyond my reach all the time –

Clarence is spinning along toward Sacramento tonight – where he will address the senate = audience tomorrow evening on the anti = capital = punishment bill – and Sunday he will speak on that here in Blanchard Hall [Los Angeles]
4

a week from tonight he is to speak for the Single Tax Crowd in the big auditorium and a packed house is promised. His popularity increases as he becomes more and more the prey of this gang of cutthroats. Immediately after the verdict his friends arranged for a big banquet upstairs at Christopher's –

The entire floor was jam = ful[l] of people along tables as closely arranged as was possible to crowd them in. The crowd & Clarence
5

seemed electric – Everyone flashed and sparkled and rubbed their minds together for more –

D – never spoke with more fire and force, it seemed to me! Even 4-5 jurors & their wives (from first trial) were there from suburbs –

This second verdict only strengthened the old friendships, and men of all kinds – even bankers, stokked him & sympathized with him – introducing themselves & denouncing "this gang."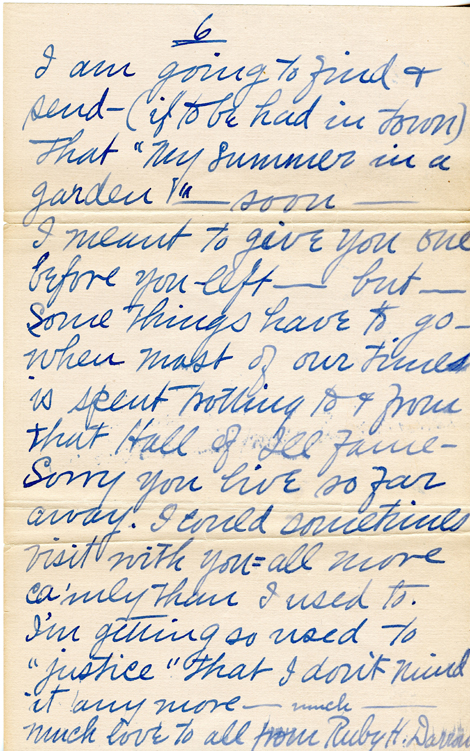 6

I am going to find & send – (if to be had in town) that "my summer in a garden " – soon –

I meant to give you one before you left – but – some things have to go – when most of our time is spent trotting to & from that hall of ill fame – Sorry you live so far away. I could sometimes visit with you = all more ca[l]mly than I used to. I'm getting so used to "justice" that I don't notice it any more

– uncle –

Much love to all from Ruby H. Darrow