Clarence Darrow to DeWitt Root, Mar 22, 1936
Click on the image to view as a PDF. A transcription of the letter is on the right.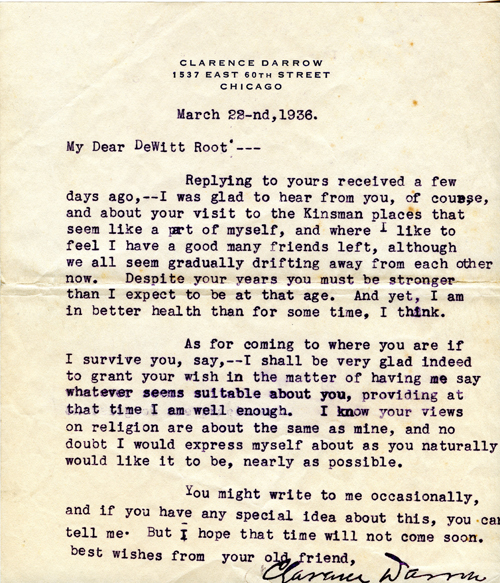 My Dear DeWitt Root' ---
Replying to yours received a few days ago, -- I was glad to hear from you, of course, and about your visit to Kinsman places that seem like a part of myself, and where I like to feel I have a good many friends left, although we all seem gradually drifting away from each other now. Despite your years you must be stronger than I expect to be at that age. And yet, I am in better health than for some time, I think.
As for coming to where you are if I survive you, say, -- I shall be very glad indeed to grant your wish in the matter of having me say whatever seems suitable about you, providing at that time I am well enough. I know your views on religion are about the same as mine, and no doubt I would express myself about as you naturally would like it to be, nearly as possible.
You might write to me occasionally, and if you have any special idea about this, you can tell me. But I hope that time will not come soon.\r\n\r\n Best wishes from your old friend,
Clarence Darrow