Paul Darrow to Irving Stone, January 26, 1941
Click on the image to view as a PDF. A transcription of the letter is on the right.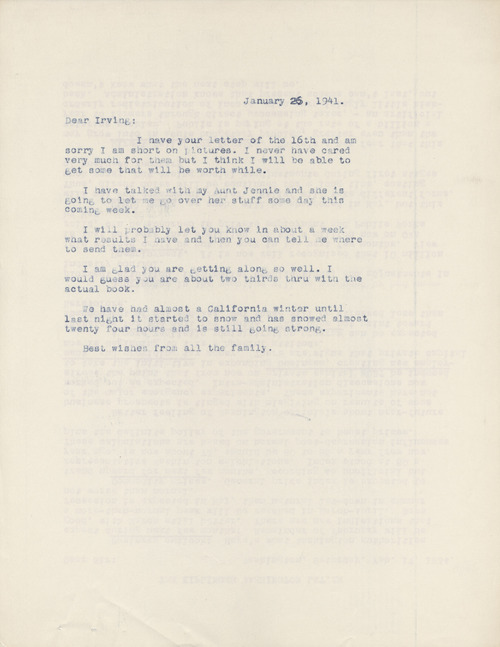 January 26, 1941.
Dear Irving:
I have your letter of the 16th and am sorry I am short on pictures. I never have cared very much for them but I think I will be able to get some that will be worth while.
I have talked with my Aunt Jennie and she is going to let me go over her stuff some day this coming week.
I will probably let you know in about a week what results I have and then you can tell me where to send them.
I am glad you are getting along so well. I would guess you are about two thirds thru with the actual book.
We have had almost a California winter until last night it started to snow and has snowed almost twenty four hours and is still going strong.
Best wishes from all the family.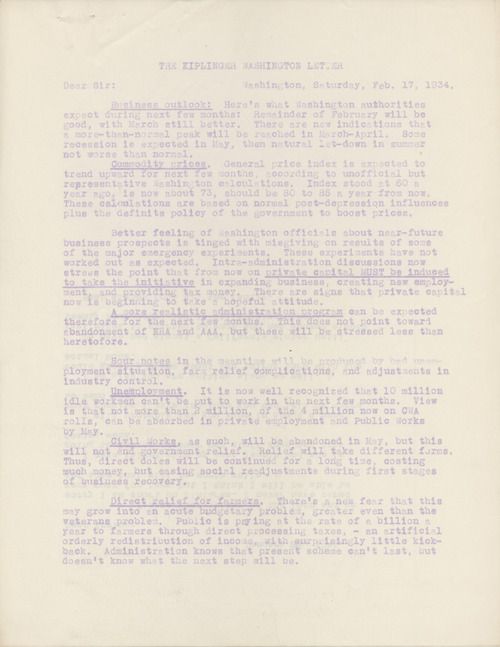 THE KIPLINGER WASHINGTON LETTER
Washington, Saturday, Feb. 17, 1934.
Dear Sir:
Business outlook : Here''s what Washington authorities expect during next few months: Remainder of February will be good, with March still better. There are new indications that a more-than-normal peak will be reached in March - April. Some recession is expected in May, then a natural let-down in summer not worse than normal.
Commodity prices . General price index is expected to trend upward for next few months, according to unofficial but representative Washington calculations. Index stood at 60 a year ago is now about 73 should be 80 to 85 a year from now. These calculations are based on normal post-depression influence plus the definite policy of the government to boost prices.
Better feeling of Washington officials about near future business prospects is tinged with misgiving on results of some of the major emergency experiments. These experiments have not worked out as expected. Intra-administration discussions now stress the point that from now on private capital MUST be induced to take the initiative in expanding business, creating new employment, and providing tax money. There are signs that private capital now is beginning to take a hopeful attitude.
A more realistic administration program can be expected therefore for the next few months. This does not point toward abandonment of NRA and AAA, but these will be stressed less than heretofore.
Sour notes in the meantime will produced by bad employment situation, farm relief complications, and adjustments in industry control.
Unemployment . It is now well recognized that 10 million idle workmen can't be out to work in the next few months. View is that not more than 2 million of the 4 million now on CWA rolls, can be absorbed in private employment employment and Public Works by May.
Civil Works , as such, will be abandoned in May, but this will not end government relief. Relief will take different forms. Thus, direct doles will be continued for a long time, costing such money, but easing social readjustments during first stages of business recovery.
Direct relief for farmers There's a new fear that this may grow into an acute budgetary problem, greater even than the veterans problem. Public is paying at the rate of a billion a year to farmers through direct processing taxes, — an artificial orderly redistribution of income, with surprisingly little kickback. Administration knows that present scheme can't last, but doesn't know what the next step will be.