Irving Stone to Paul Darrow, June 10, 1940
Click on the image to view as a PDF. A transcription of the letter is on the right.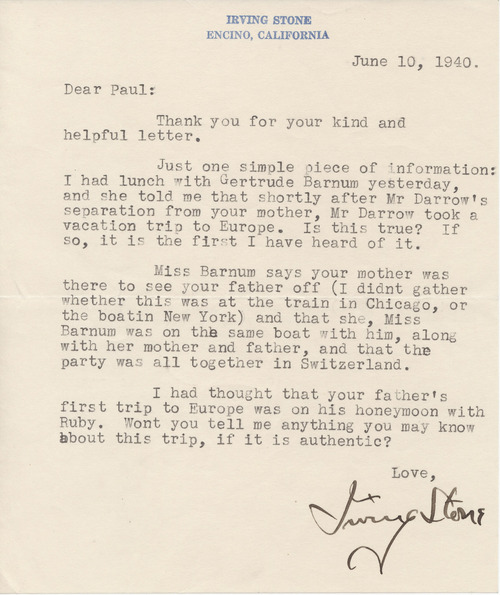 IRVING STONE
ENCINO, CALIFORNIA
June 10, 1940
Dear Paul:
Thank you for your kind and helpful letter.
Just one simple piece of information: I had lunch with Gertrude Barnum yesterday, and she told me that shortly after Mr Darrow's separation from your mother, Mr Darrow took a vacation trip to Europe. Is this true? If so, it is the first I have heard of it.
Miss Barnum says your mother was there to see your father off (I didnt gather whether this was at the train in Chicago, or the boatin New York) and that she, Miss Barnum was on the same boat with him, along with her mother and father, and that the party was all together in Switzerland.
I had thought that your father's first trip to Europe was on his honeymoon with Ruby. Wont you tell me anything you may know about this trip, if it is authentic?
Love,
Irving Stone