Irving Stone to Paul Darrow, May 28, 1940
Click on the image to view as a PDF. A transcription of the letter is on the right.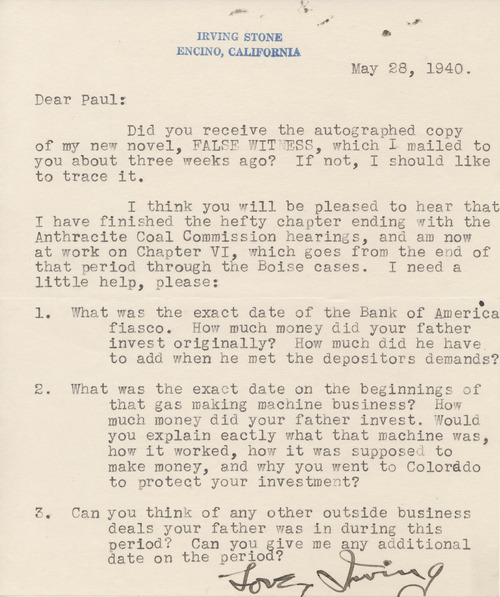 IRVING STONE
ENCINO, CALIFORNIA
March 29, 1940
Dear Paul:
Did you receive the autographed copy of my new novel, FALSE WITNESS, which I mailed to you about three weeks ago? If not, I should like to trace it.
I think you will be pleased to hear that I have finished the hefty chapter ending with the Anthracite Coal Commission hearings, and am now at work on Chapter VI, which goes from the end of that period through the Boise cases. I need a little help, please:
1. What was the exact date of the Bank of America fiasco. How much money did your father invest originally? How much did he have to add when he met the depositors demands?
2. What was the exact date on the beginnings of that gas making machine business? How much money did your father invest. Would you explain exactly what that machine was, how it worked, how it was supposed make money, and why you went to Colorado to protect your investment?
3. Can you think of any other outside business deals your father was in during this period? Can you give me any additional date on the period?
Love, Irving