Irving Stone to Paul Darrow, March 22, 1940
Click on the image to view as a PDF. A transcription of the letter is on the right.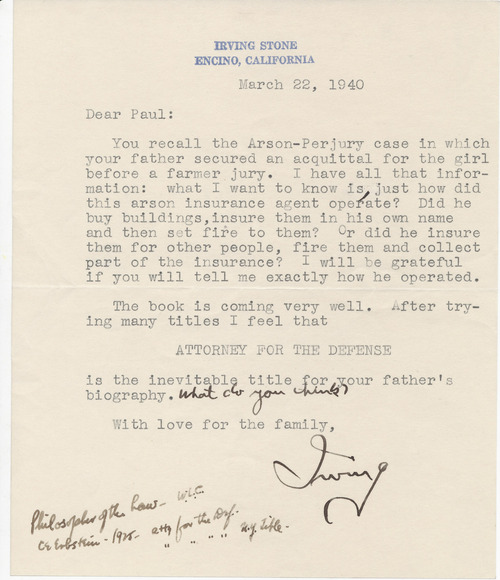 IRVING STONE
ENCINO, CALIFORNIA
March 22, 1940
Dear Paul:
You recall the Arson-Perjury case in which your father secured an acquittal for the girl before a farmer jury. I have all that information: what I want to know is just how did this arson insurance agent operate? Did he buy buildings, insure them in his own name and then set fire to them? Or did he insure them for other people, fire them and collect part of the insurance? I will be grateful if you will tell me exactly how he operated.
The book is coming very well. After trying many titles I feel that
ATTORNEY FOR THE DEFENSE
is the inevitable title for your father's biography. What do you think?
With love for the family,
Irving