Paul Darrow to Irving Stone, February 22, 1940
Click on the image to view as a PDF. A transcription of the letter is on the right.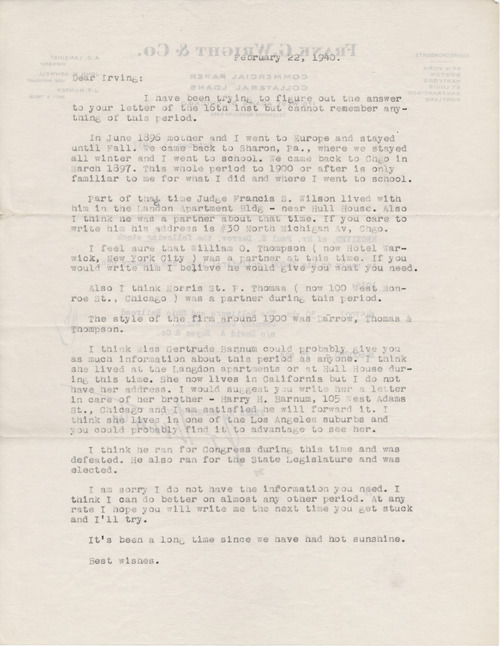 February 22, 1940.
Dear Irving:
I have been trying to figure out the answer to your letter of the 16th Inst but cannot remember anything of this period.
In June 1896 Mother and I went to Europe and stayed until Fall. We came back to Sharon, Pa., where we stayed all winter and I went to school. We came back to Chgo in March 1897. This whole period to 1900 or after is only familiar to me for what i did and where I went to school.
Part of that time Judge Francis S. Wilson lived with him in the Landon Apartment Bldg - near Hull House. Also I think he was a partner about that time. If you care to write him his address is #30 North Michigan Av, Chgo.
I feel sure that William O. Thompson (now Hotel Warwick, New York City) was a partner at this time. If you would write him I believe he would give you what you need.
Also I think Morris St. P. Thomas (now 100 West Monroe St., Chicago) was a partner during this period.
The style of the firm around 1900 was Darrow, Thomas A. Thompson.
I think Miss Gertrude Barnum could probably give you as much information about this period as anyone. I think she lived at the Langdon apartments or at Hull House during this time. She now lives in California but I do not have her address. I would suggest you write her a letter in care of her brother - Harry H. Barnum, 105 West Adams St., Chicago and I am satisfied he will forward it. I think she lives in one of the Los Angeles suburbs and you could probably find it to advantage to see her.
I think he ran for Congress during this time and was defeated. He also ran for the State Legislature and was elected.
I am sorry I do not have the information you need. I think I can do better on almost any other period. At any rate I hope you will write me the next time you get stuck and I''ll try.
It's been a long time since we have had hot sunshine.
Best wishes.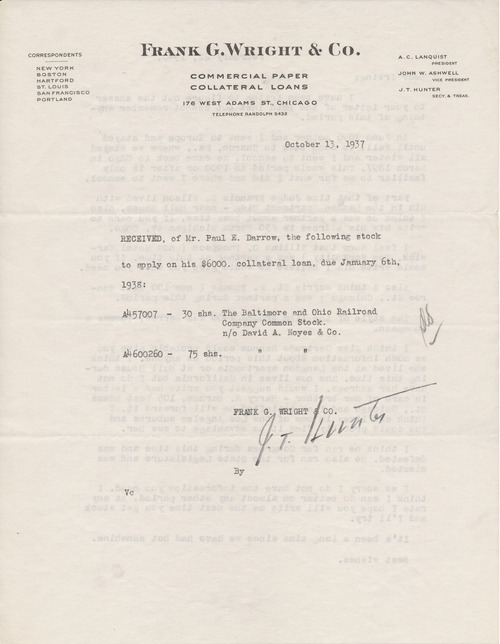 FRANK G. WRIGHT & CO.
Commercial Paper
Collateral Loans
170 West Adams St., Chicago
Telephone Randolph 5432
October 13, 1937
RECEIVED, of Mr. Paul E. Darrow, the following stock
to apply on his $6000. collateral loan, due January 6th,
1938:
A457007 — 30 shs. The Baltimore and Ohio Railroad
Company Common Stock.
n/o David A. Noyes & Co.
A4600260 — 75 shs. " "
Frank G. Wright & Co.
By J.T. Hunter
Vc