Irving Stone to Paul Darrow, February 16, 1940
Click on the image to view as a PDF. A transcription of the letter is on the right.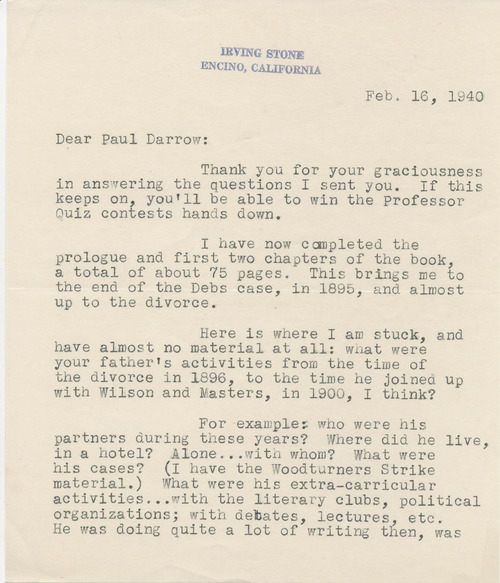 IRVING STONE
ENCINO, CALIFORNIA
Feb. 16, 1940
Dear Paul Darrow:
Thank you for your graciousness in answering the questions I sent you. If this keep on, you'll be able to win the Professor Quiz contests hands down.
I have now completed the prologue and first two chapters of the book, a total of about 75 pages. This brings me to the end of the Debs case, in 1895, and almost up to the divorce
Here is where I am stuck, and have almost no material at all: what were your father's activities from the time of the divorce in 1896, to the time he joined up with Wilson and Masters, in 1900, I think?
For example: who were his partners during these years? Where did he live, in a hotel? Alone...with whom? What were his cases? I have the Woodturners Strike material.) What were his extra-carricular activities...with the literary clubs, political organizations; with debates, lectures, etc. He was doing quite a lot of writing then, was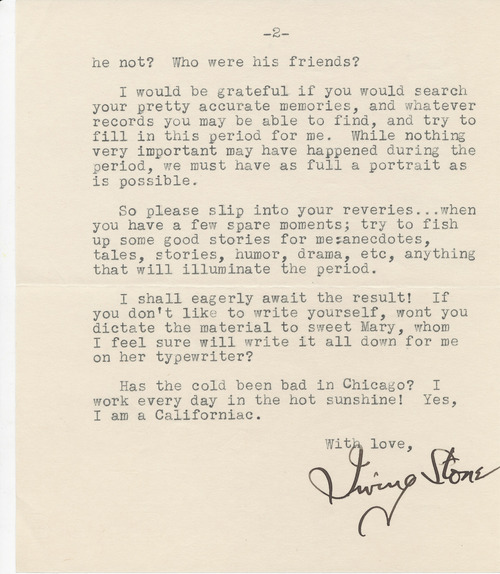 -2-
he not? Who were his friends?
I would be grateful if you would search your pretty accurate memories, and whatever records you may be able to find, and try to fill in this period for me. While nothing very important may have happened during the period, we must have as full a portrait as is possible.
So please slip into your reveries...when you have few spare moments; try to fish up some good stories for me: anecdotes, tales, stories, humor, drama, etc, anything that will illuminate the period.
I shall eagerly await the result! If you don't like to write yourself, wont you dictate the material to sweet Mary, whom I feel sure will write it all down for me on her typewriter?
Has the cold been bad in Chicago? I work every day in the hot sunshine! Yes, I am a Californiac.
With love,
Irving Stone