Jacob C. Lutz to Paul Darrow, April 25, 1912
The reference to Ensign could be to Charles B. Ensign (1860 - 1942) or his brother, Adelbert L. Ensign or to their firm, C. B. Ensign & Co. The Ensign firm, based in Chicago, was used by Clarence Darrow and his son as an investment bank for their Greeley Gas & Fuel Company in Colorado.
Click on the image to view as a PDF. A transcription of the letter is on the right.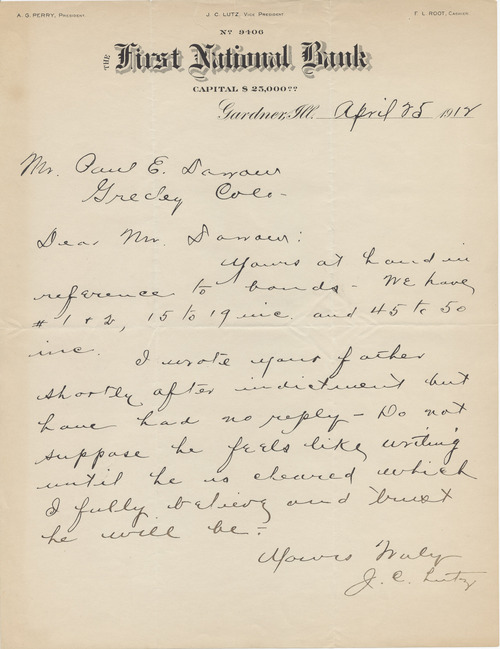 A. G. Perry, President J. C. Lutz, Vice President F.L. Root, Cashier
No, 9406
The First National Bank
Capital $ 25,000??
Gardner, Ill. April 25 1912
Mr. Paul E. Darrow
Greeley Colo -
Dear Mr. Darrow:
Yours at hand in reference to bonds. We have # 1 & 2, 15 to 19 inc. and 45 to 50 inc.
I wrote your father shortly after indictment but have had no reply - Do not suppose he feels like writing until he is cleared which I fully believe and trust he will be.
Yours truly
J. C. Lutz