Jacob C. Lutz to Clarence Darrow, January 14, 1908
The reference to Ensign could be to Charles B. Ensign (1860 - 1942) or his brother, Adelbert L. Ensign or to their firm, C. B. Ensign & Co. The Ensign firm, based in Chicago, was used by Clarence Darrow and his son as an investment bank for their Greeley Gas & Fuel Company in Colorado.
Click on the image to view as a PDF. A transcription of the letter is on the right.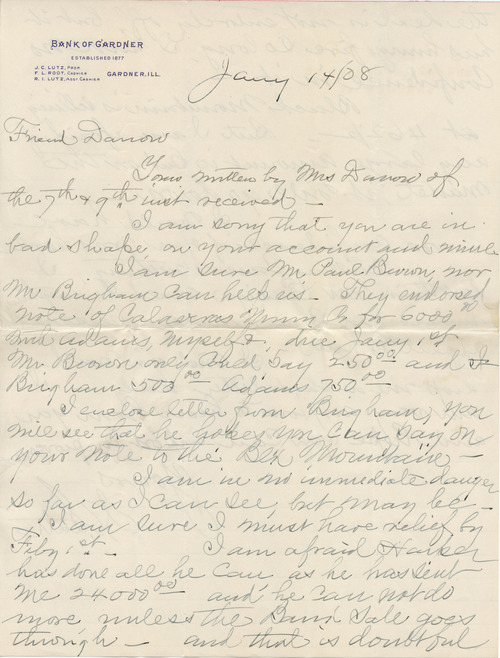 Bank of Gardner
Established 1887


J.C. Lutz, Proprietor
F.L. Root, Cashier
R.I. Lutz, Asst. Cashier

Jany 14/08

Friend Darrow

Yours written by Mrs Darrow of the 7th & 9th [?] received -

I am sorry that you are in bad shape, on your account and mine

I am sure Mr Paul Brown, nor Mr Brigham can help us - they endorsed note of Calaversas [?] Or for 6000 00 with Adams, myself &, due Jany 1st Mr Brown only could pay 250 00 and I Brigham 500 00 Adams 750 00

I enclose letter from Brigham, you will see that he hopes you can pay on your Note to the Blk Mountain -

I am in no immediate danger so far as I can see, but may be -

I am sure I must have relief by Feby 1 st -

I am afraid Harper has done all he can, as he has sent me 24000 00 and he can not do more, unless the Bank sale goes through - and that is doubtful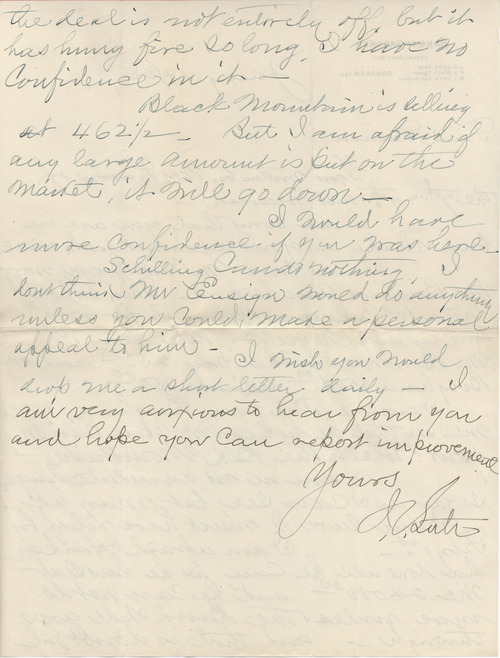 the deal is not entirely off but it has hung fine so long I have no confidence in it -
Black Mountain is selling at 462 1/2 - But I am afraid if any large amount is put on the market, it will go down -
I would have more confidence if you was here -
Schilling can do nothing. I dont think Mr Ensign would do anything unless you could make a personal appeal to him -
I wish you would drop me a short letter daily - I am very anxious to hear from you and hope you can report improvement
Yours
J.C. Lutz