Jacob C. Lutz to Paul Darrow, July 6, 1907
Black Mountain likely refers to the Black Mountain Mining Company which operated the Cerro Prieto gold mine in Mexico.
Click on the image to view as a PDF. A transcription of the letter is on the right.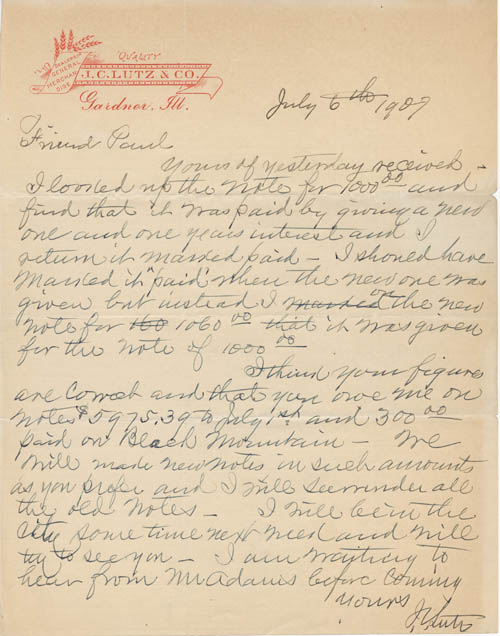 Quality
J.C. LUTZ & CO.
Dealership in General Merchandise
Gardner, Ill.
July 6 th 1907
Friend Paul
Yours of yesterday received - I looked up the Note for 1000 00 and find that it was paid by giving a new one and one years interest and I return it marked paid - I should have marked it "paid" when the new one was given but instead I marked on the new note for 160 1060 00 that it was given for the Note of 1000 00
I think your figures are correct and that you owe me on notes $5975.39 to July 1st and 300 00 paid on Black Mountain - We will make new Notes in such amounts as you prefer and I will surrender all the old Notes - I will be in the city some time next week ( and will try to see you -? I am waiting to hear from McAdams before coming
Yours
J.C. Lutz