Jacob C. Lutz to Paul Darrow, May 9, 1906
Click on the image to view as a PDF. A transcription of the letter is on the right.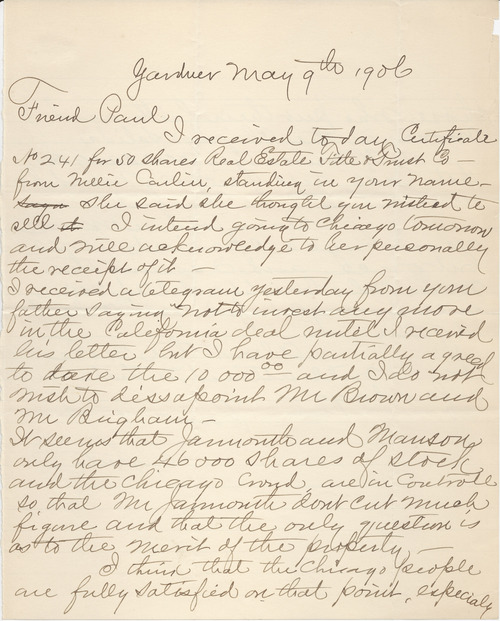 Gardner May 9 th 1906
Friend Paul
I received today Certificate c/o 241 for 50 shares Real Estate Title Trust Co - from Nellie Carlin, standing in your name. Sign She said she thought you mislead to sell it I intend going to Chicago tomorrow and will acknowledge to her personally the receipt of it —
I received a telegram yesterday from your father saying Not to invest any more in the California deal until I received his letter but I have partially agreed to take the 10 000 00 and I do not wish to dissapoint Mr. Brown and Mr. Brigham.
It seems that Jarmouth and Manson only have 46 000 shares of stock and the Chicago crowd are in control so that Mr Jarmouth dont cut much figure and that the only question is as to the Merit of the property -
I think that the Chicago people are fully satisfied on that point, especially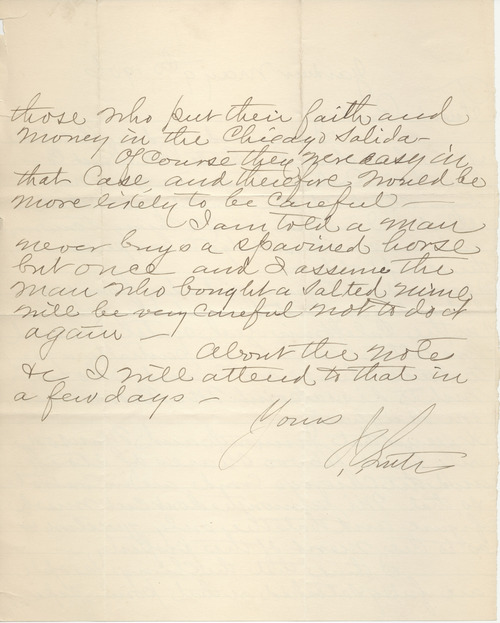 those who put their faith and money in the Chicago Solida —
Of course they were easy in that Case, and therefore would be more likely to be careful —
I am told a man never buys a spavined horse but once and I assume the man who bought a salted mine will be very careful not to do it again —
About the notes etc I will attend to that in a few days —
Yours
J.C. Lutz