Mary Elizabeth Darrow to Unknown, June 29, 1884
In addition to Clarence, Jennie Darrow had five brothers: Edward Everett, Channing, Hubert, Herman, and Herbert. It is not known if this letter was written to Everett, Channing, Hubert, or Herman. (Herbert died in 1857)
Click on the image to view as a PDF. A transcription of the letter is on the right.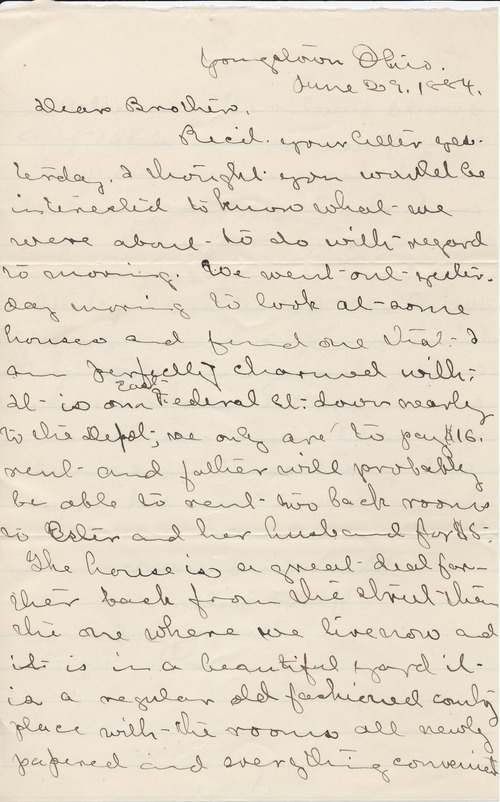 Youngstown Ohio.
June 29, 1884.
Dear Brother,
Rec'd. your letter yesterday. I thought you would be interested to know what we were about to do with - regard to moving. We went-out-yesterday morning to look at-some houses and found one that I am perfectly charmed with. It-is an East Federal Bl.-down nearby to the Depot; we only are to pay $16. rent- and father will probably be able to rent two back rooms to Ester and her husband for $5-
The house is a great deal farther back from the street than the one where we live now and it is in a beautiful yard it -is a regular old fashioned country place with - the rooms all newly papered and everything convenient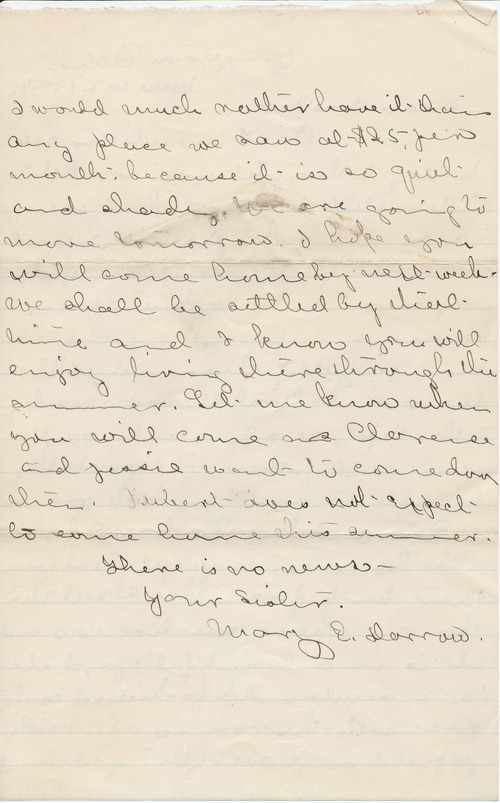 I would much rather have it- than any place we saw at $25, per month; because it- is so quiet and shady. We are going to move tomorrow. I hope you will come home by next-week- we shall be settled by that time and i know you will enjoy living there through the summer. Let- me know when you will come and Clarence and Jessie want to come down then. Hubert does not- expect- to come home this summer.
There is no news-
Your sister.
Mary E. Darrow.