Karl K. Darrow to Jennie Darrow Moore, July 18, 1951
Click on the image to view as a PDF. A transcription of the letter is on the right.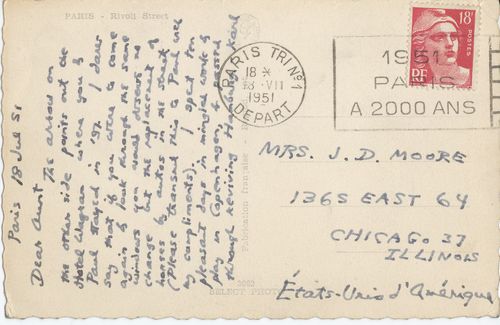 Paris 18 Jul 51
Dear Aunt
The arrow on the other side points out the Hotel Wagram where you & Paul stayed in [?] I daresay that if you were to come again to look through the same windows you would observe no change but the replacement of horses by autos in the street (Please transend this to Paul with my compliments). I spent 10 pleasant days in mingled work to play in Copenhagen, & passed through reviving Hamburg.
Karl
Mrs. J. D. Moore
1365 East 64
Chicago 37 Illinois
Etats-Unis d'Amerique