Clarence Darrow to Ruby Darrow, December 27, 1922
Click on the image to view as a PDF. A transcription of the letter is on the right.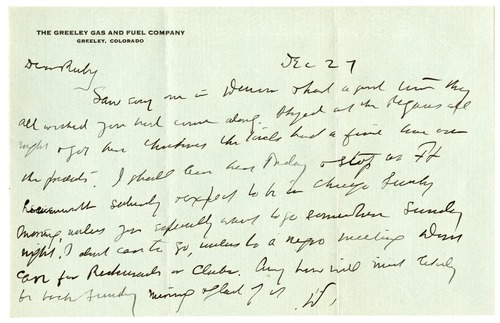 The Greeley Gas And Fuel Company
Greeley, Colorado
Dear Ruby Dec 27
Saw every one in Denver & had a good time they all wished you had come along. Stayed at the Regans all night & got here Christmas the kids had a fine time over the presents. I shall leave here Friday & stop at Ft. Leavenworth Saturday & expect to be in Chicago Sunday morning, unless you especially want to go somewhere Sunday night I don''t care to go, unless to a negro meeting Don't care for Restaurants or Clubs. Any how will most likely be back Sunday morning & glad of it.
D