Karl K. Darrow to Ruby J. Splitstone, June 6, 1905
Click on the image to view as a PDF. A transcription of the letter is on the right.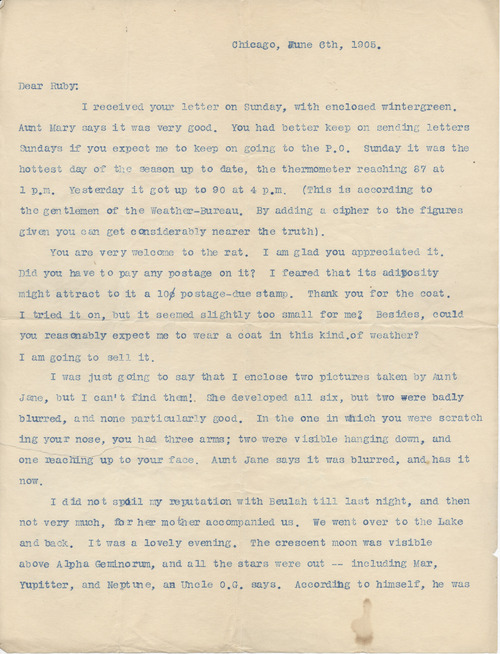 Chicago, June 6th, 1905.
Dear Ruby:
I received your letter on Sunday, with enclosed wintergreen. Aunt Mary says it was very good. You had better keep on sending letters Sundays if you expect me to keep on going to the P.O. Sunday it was the hottest day of the season up to date, the thermometer reaching 87 at 1p.m. Yesterday it got up to 90 at 4 p.m. (This is according to the gentlemen of the Weather-Bureau. By adding a cipher to the figures given you can get considerably nearer the truth).
You are very welcome to the rat. I am glad you appreciated it. Did you have to pay any postage on it? I feared that its adiposity might attract to it a 10c postage-due stamp. Thank you for the coat. I tried it on, but it seemed slightly too small for me. Besides, could you reasonably expect me to wear a coat in this kind. of weather? I am going to sell it.
I was just going to say that I enclose two pictures taken by Aunt Jane, but I can't find them! She developed all six, but two were badly blurred, and none particularly good. In the one in which you were scratching your nose, you had three arms; two were visible hanging down, and one reaching up to your face. Aunt Jame says it was blurred, and has it now.
I did not spoil by reputation with Beulah till last night, and then not very much, for her mother accompanied us. We went over to the Lake and back. It was a lovely evening. The crescent moon was visible above Alpha Geminorum, and all the stars were out -- including Mar, Yupitter, and Neptune, an Uncle O.G. says. According to himself, he was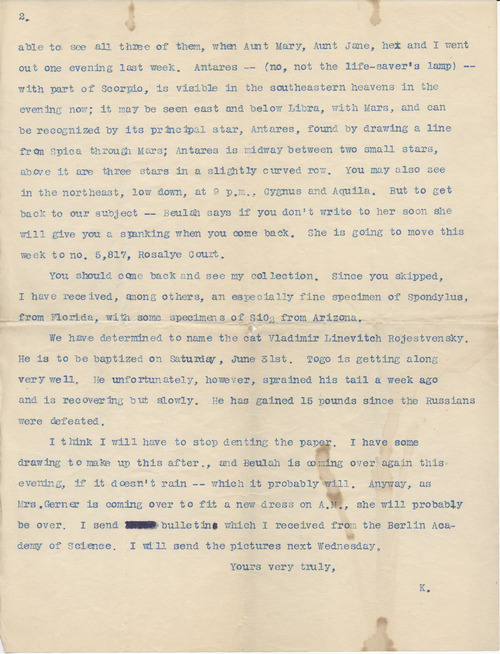 able to see all three of them, when Aunt Mary, Aunt Jane, he and I went out one evening last week. Antares -- (no, not the life-saver's lamp) -- with part of Scorpio, is visible in the southeastern heavens in the evening now; it may be seen east and below Libra, with Mars, and can be recognized by its principal star, Antares, found by drawing a line from Spica through Mars; Antares is midway between two small stars, above it are three stars in a slightly curved row. You may also see in the northeast, low down, at 9 p.m., Cygnus and Aquila. But to get back to our subject -- Beulah says if you don't write to her soon she will give you a spanking when you come back. She is going to move this week to no. 5,817, Rosalye Court.
You should come back and see my collection. Since you skipped, I have received, among others, an especially fine specimen of Spondylus, from Florida, with some specimens of Sio2 from Arizona.
We have determined to name the cat Vladimir Linevitch Rojestvensky. He is to be baptized on Saturday, June 31st. Togo is getting along very well. He unfortunately, however, sprained his tail a week ago and is recovering but slowly. He has gained 15 pounds since the Russians were defeated.
I think I will have to stop denting the paper. I have some drawing to make up this after., and Beulah is coming over again this evening, if it doesn't rain -- which it probably will. Anyway, as Mrs. Gerner is coming over to fit a new dress on A.M., she will probably be over. I send bulletin which I received from the Berlin Academy of Science. I will send the pictures next Wednesday.
Yours very truly,
K.