Hubert Darrow to Jennie Darrow Moore, January 11, 1902
Click on the image to view as a PDF. A transcription of the letter is on the right.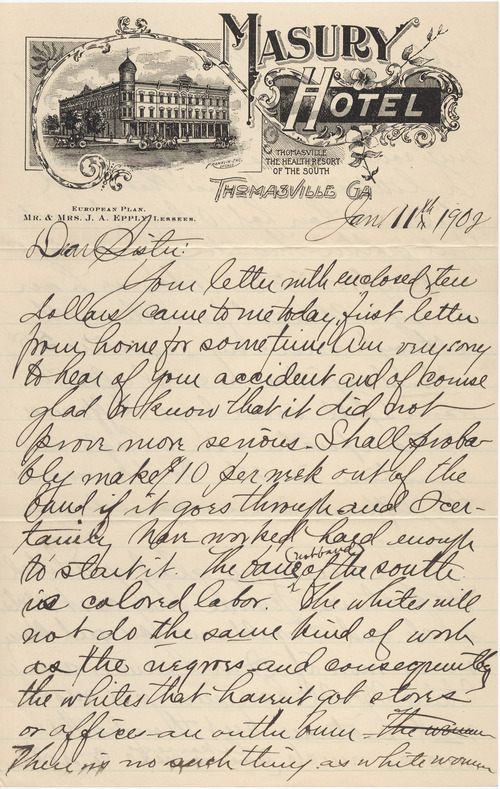 Masury Hotel
Thomasville Ga
Jan 11 th 1902
Dear Sister:
Your letter with enclosed ten dollars came to me today, first letter from home for some time Am very sorry to hear of your accident and of course glad to know that it did not prove more serious. Shall probably make $10 per week out of the [bane ?] if it goes through and I certainly have worked hard enough to start it. The bane (not band) of the south is colored labor. The whites will not do the same kind of work as the negroes and consequently the whites that haven't got stores or offices are on the bane The women There is not such thing as white women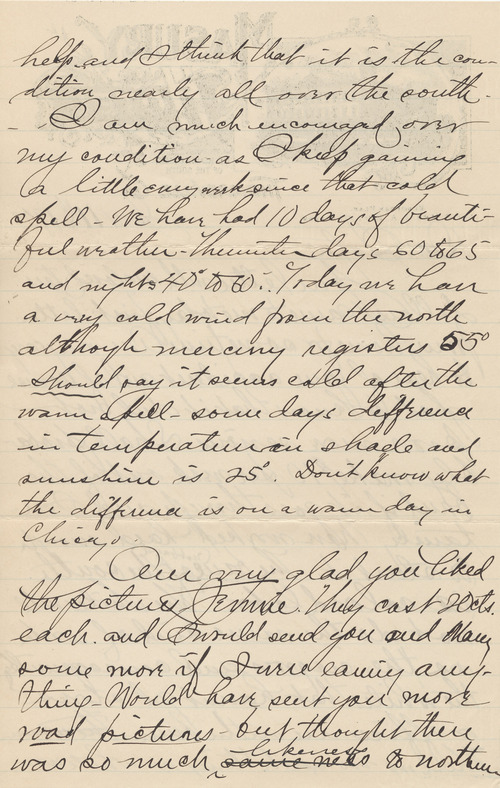 help and I think that it is the condition nearly all over the south.
I am much encouraged over my condition as I keep gaining a little every week since that cold spell. We have had 10 days of beautiful weather. Thirteen days 60 to 65 and nights\r\n40 to 60. Today we have a very cold wind from the north although mercury registers 55 should say it seems cold after the warm spell – some days difference in temperature in shade and sunshine is 25. Don't know what the difference is on a warm day in Chicago.
Am very glad you liked the pictures Jennie. They cost 20 cts. each. and I would send you and Mary some more if I were earning anything. Would have sent you more road pictures but thought there was so much same ness likeness to northern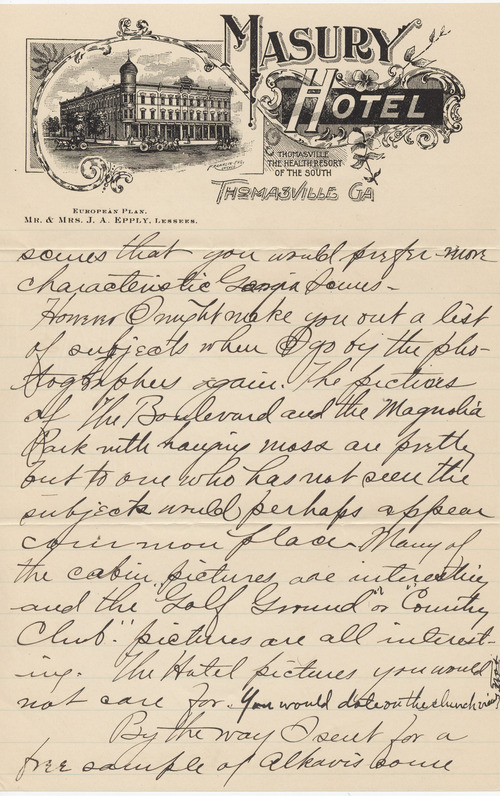 scenes that you would prefer more characteristic Georgia Scenes.
However I might make you out a list of subjects wherre I go by the photographers again. The pictures of the Boulevard and the Magnolia Park with hanging moss are pretty but to one who has not seen the subjects would perhaps appear common place. Many of the cabin pictures are interesting and the "Golf Ground" or "Country Club." pictures are all interesting. The Hotel pictures you would not care for. You would dote on the church view [?]
By the way I sent for a free sample of Alkavis some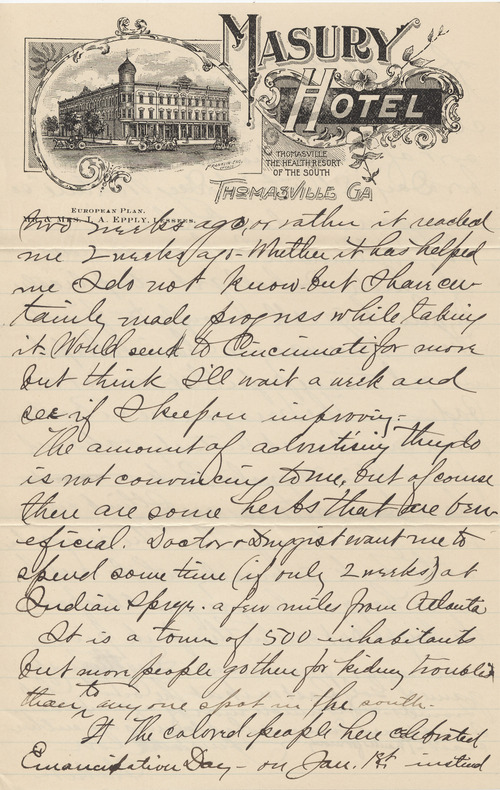 two weeks ago, or rather it reached me 2 weeks ago. Whether it has helped me I do not know, but i have certainly made progress while taking it. Would send to Cincinnati for more but think I'll wait a week and see it I keep on improving.
The amount of advertising they do is not convincing to me, but of course, there are some herbs that are beneficial. Doctor & Drugist want me to spend some time (if only 2 weeks) at Indian Sprgs. a few miles from Atlanta
It is a town of 500 inhabitants but some people go there for kidney troubles than to any one spot in the south.
It The colored people here celebrated Emancipation Day — Jan. 1st instead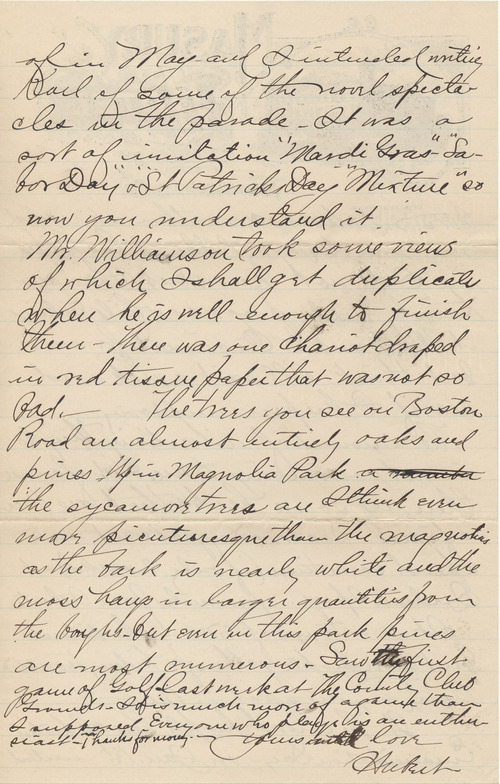 of in May and I intended writing Karl of some of the novel spectacles of the parade. It was a sort of initiation "Marti Gras" – "Labor Day" & "St Patrick Day" "Mixture" so now you understand it.
Mr. Williamson took some views of which I shall get duplicates where he is well enough to finish them. There was one chariot draped in red tissue paper that was not so bad. The trees you see on Boston Road are almost entirely oaks and pines Up in Magnolia Park a number the sycamore trees are I think even more picturesque than the magnolias as the bark is nearly white and the moss hangs in large quantities from the boughs. But even in this park pines are most numerous. Saw the first game of Golf last week at The Country Club Grounds. It is much more of a game than I supposed Everyone who plays is an enthusiast. Thanks for money. Yours with Love
Hubert