Unknown to Ruby Darrow, In re: Mary Darrow Olson, ????-??-1909
Mary Darrow Olson (1852 - 1909) was Clarence Darrow's older sister. She died in Chicago at age 58 on November 14, 1909. Mary had begun teaching in Chicago in 1884 and served as the principal of the McCosh school for 25 years. Date (1-1-10?) written on letter by an unknown person.
Click on the image to view as a PDF. A transcription of the letter is on the right.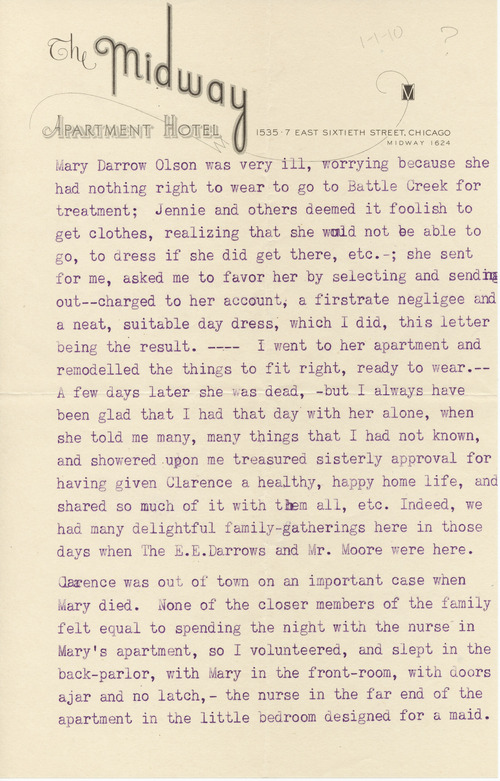 The Midway
Apartment Hotel 1535 7 East Sixtieth Street, Chicago
Midway 1624
Mary Darrow Olson was very ill, worrying because she had nothing right to wear to go to Battle Creek for treatment; Jennie and others deemed it foolish to get clothes, realizing that she would not be able to go, to dress if she did get there, etc.-; she sent for me, asked me to favor her by selecting and sending out--charged to her account, a firstrate negligee and a neat, suitable day dress, which I did, this letter being the result. ---- I went to her apartment and remodelled the things to fit right, ready to wear.-- A few days later she was dead, -but I always have been glad that I had that day with her alone, when she told me many, many things that I had not known, and showered upon me treasured sisterly approval for having given Clarence a healthy, happy home life, and shared so much of it with them all, etc. Indeed, we had many delightful family-gatherings here in those days when the E.E. Darrows and Mr. Moore were here.
Clarence was out of town on an important case when Mary died. None of the closer members of the family felt equal to spending the night with the nurse in Mary's apartment, so I volunteered, and slept in the back-parlor, with Mary in the front-room, with doors ajar and no latch,-the nurse in the far end of the apartment in the little bedroom designed for a maid.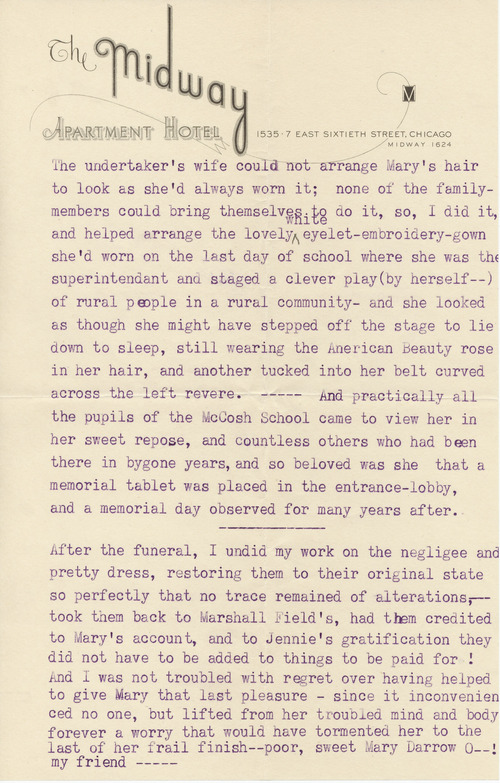 The Midway
Apartment Hotel 1535 7 East Sixtieth Street, Chicago
Midway 1624
The undertaker's wife could not arrange Mary's hair to look as she'd always worn it; none of the family-members could bring themselves to do it, so, I did it, and helped arrange the lovely white eyelet-embroidery-gown she'd worn on the last day of school where she was the superintendant and staged a cleaver play (by herself--) of rural people in a rural community- and she looked as though she might have stepped off the stage to lie down to sleep, still wearing the American Beauty rose in her hair, and another tucked into her belt curved across the left revere. ----- And practically all the pupils of the McCosh School came to view her in her sweet repose, and countless others who had been there in bygone years, and so beloved was she that a memorial tablet was placed in the entrance-lobby, and a memorial day observed for many years after.
____________________
After the funeral, I undid my work on the negligee and pretty dress, restoring them to their original state so perfectly that no trace remained of alterations,--- took them back to Marshall Field's, had them credited to Mary's account, and to Jennie's gratification they did not have to be added to things to be paid for ! And I was not troubled with regret over having helped to give Mary that last pleasure - since it inconvenienced no one but lifted her troubled mind and body forever a worry that would have tormented her to the last of her frail finish--poor, sweet Mary Darrow O--! my friend -----