Clarence Darrow to D. C. Stephenson, April 14, 1931
Image provided by the Indiana State Library. Notes on date: Date, with question mark, written on letter by an unknown person.
Click on the image to view as a PDF. A transcription of the letter is on the right.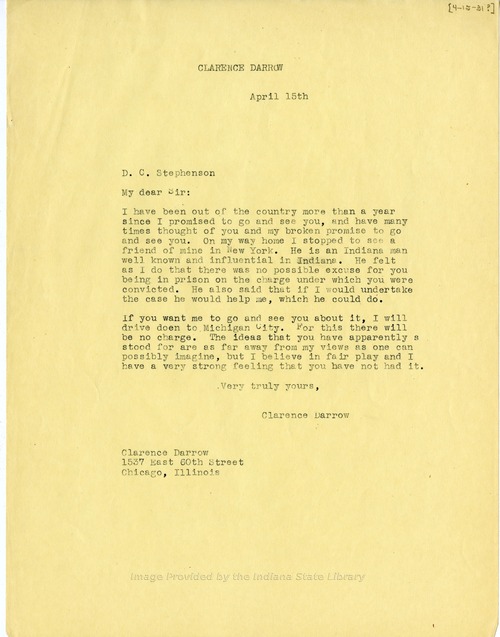 [4-15-31?]
Clarence Darrow
April 15th
D. C. Stephenson
My dear Sir:
I have been out of the country more than a year since I promised to go and see you, and have many times thought of you and my broken promise to go and see you. On my way home I stopped to see a friend of mine in New York. He is an Indiana man well known and influential in Indiana. He felt as I do that there was no possible excuse for you being in prison on the charge under which you were convicted. He also said that if I would undertake the case he would help me, which he could do.
If you want me to go and see you about it, I will drive doen to Michigan City. For this there will be no charge. The ideas that you have apparently s stood for are as far away from my views as one can possibly imagine, but I believe in fair play and I have a very strong feeling that you have not had it.
Very truly yours,
Clarence Darrow
Clarence Darrow
1537 East 60th Street
Chicago, Illinois