D. C. Stephenson to Clarence Darrow, June 4, 1930
Image provided by the Indiana State Library.
Click on the image to view as a PDF. A transcription of the letter is on the right.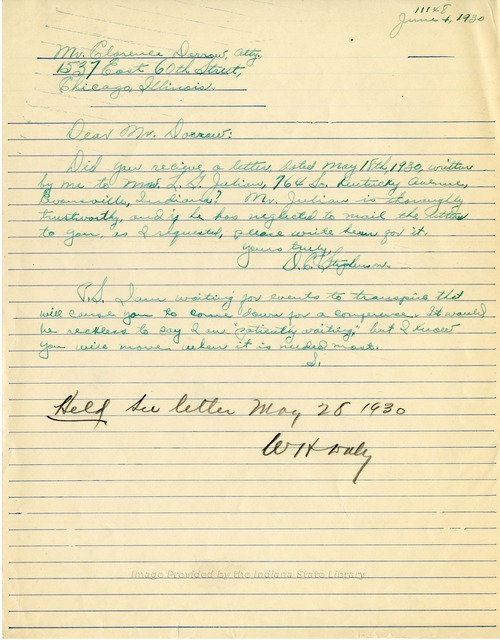 11148
June 4, 1930
Mr. Clarence Darrow, Atty.,
1537 East 60th Street,
Chicago, Illinois.
Dear Mr. Darrow:
Did you recieve a letter dated May 18, 1930, written by me to Mr. L. G. Julian, 764 So. Kentucky Avenue, Evansville, Indiana? Mr. Julian is thoroughly trustworthy, and if he has neglected to mail the letter to you, as I requested, please write him for it.
Yours truly,
D. C. Stephenson
P.S. I am waiting for events to transpire that will cause you to come down for a conference. It would be reckless to say I am "patiently waiting," but I know you will move when it is needed most.
S.
Held See letter May 28 1930
W H Daly