D. C. Stephenson to Clarence Darrow, November 13, 1928
Image provided by the Indiana State Library.
Click on the image to view as a PDF. A transcription of the letter is on the right.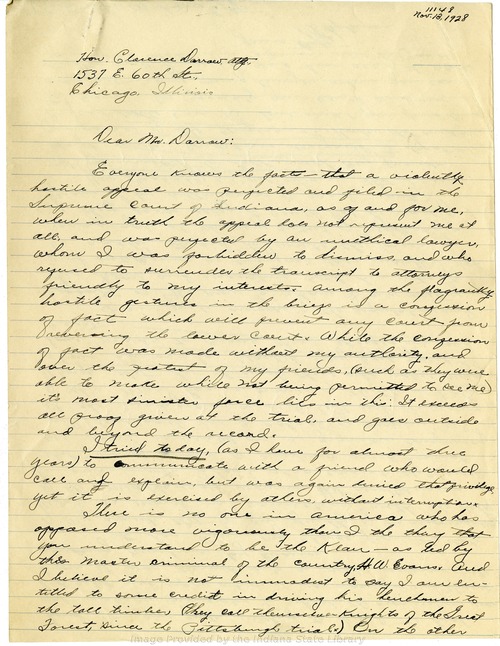 11148
Nov. 13, 1928
Hon. Clarence Darrow, Atty.,
1537 E. 60th St.
Chicago, Illinois.
Dear Mr. Darrow:
Everyone knows the facts — that a violently hostile appeal was perfected and filed in the Supreme Court of Indiana, as of and for me, where in truth the appeal does not represent me at all; and was perfected by an unethical lawyer, whom I was forbidden to dismiss and who refused to surrender the transcript to attorneys friendly to my interests. Among the flagrantly hostile gestures in the briefs is a confession of fact which will prevent any court from reversing the lower court. While the confession of fact was made without my authority, and over the protest of my friends, (such as they were able to make while not being permitted to see me) it's most sinister force lies in this: It exceeds all proof given at the trial, and goes outside and beyond the record.
I tried to day, (as I have for almost three years)to communicate with a friend who would call and explain, but was again denied that privilege, yet it is exercised by others, without interruption.
There is no one in America who has opposed more vigorously than I the thing that you understand to be the Klan — as led by the master criminal of the country, H.W. Evans. And I believe it is not immodest to say I am entitled to some credit in driving his henchmen to the tall timber (they call themselves Knights of the Great Forest, since the Pittsburgh trials).) On the other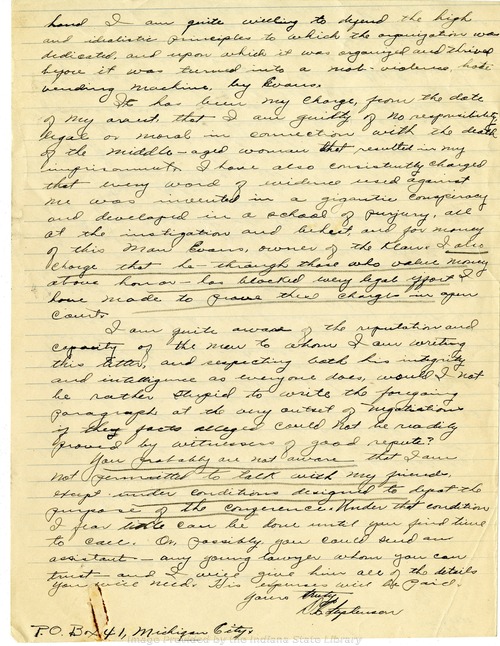 hand I am quite willing to defend the high and idealistic principles to which the organization was dedicated, and upon which it was organized and thrived before it was turned into a mob-violence, hate vending machine, by Evans.
It has been my charge, from the date of my arrest, that I am guilty of no responsibility legal or moral in connection with the death of the middle-aged woman that resulted in my imprisonment. I have also consistently charged that every word of evidence used against me was invented in a gigantic conspiracy and developed in a school of perjury, all at the instigation and [?], and for money of this Man Evans, owner of the Klan. I also charge that he - through those who value money above honor has blocked every legal effort I have made to prove these charges in open court.
I am quite aware of the reputation and capacity of the man to whom I am writing this letter, and respecting both his integrity and intelligence as everyone does, would I not be rather stupid to write the foregoing paragraph at the very outset of negotiation if the facts alleged could not be readily proved by witnesses of good repute?
You probably are not aware that I am not permitted to talk with my friends except under conditions designed to defeat the purpose of the consequence . Under that condition I fear little can be done until you find time to call. Or, possibly you could send an assistant - any young lawyer whom you can trust - and i will give him all of the details you will need. His expenses will be paid.
Yours truly,
D. C. Stephenson
P.O. Box 41, Michigan City.