D. C. Stephenson to Clarence Darrow, June 17, 1930
Image provided by the Indiana State Library. At the bottom of the letter Stephenson refers to L.G. Julian. Stephenson had previously worked for the L.G. Julian Coal Company as a bonds salesman.
Click on the image to view as a PDF. A transcription of the letter is on the right.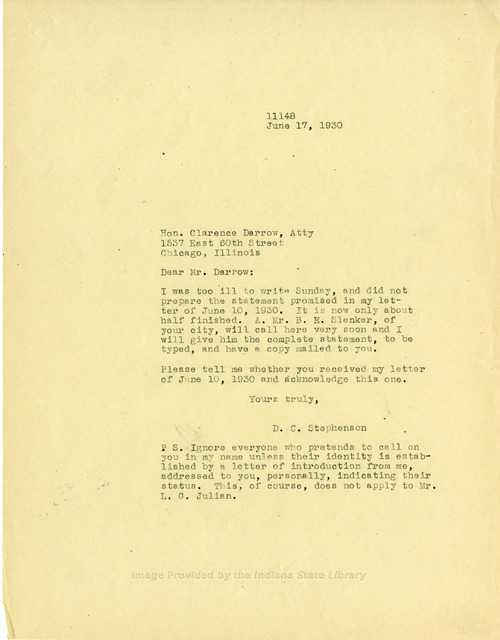 11148
June 17, 1930
Hon. Clarence Darrow, Atty.,
1537 East 60th Street
Chicago, Illinois.
Dear Mr. Darrow:
I was too ill to write Sunday, and did not prepare the statement promised in my letter of June 10, 1930. It is now only about half finished. A. Mr. B. E. Slenker, of your city, will call here very soon and I will give him the complete statement, to be typed, and have a copy mailed to you.
Please tell me whether you received my letter of June 10, 1930 and acknowledge this one.
Yours truly,
D. C. Stephenson
P.S. Ignore everyone who pretends to call on you in my name unless their identity is established by a letter of introduction from me, addressed to you, personally, indicating their status. This, of course, does not apply to Mr. L. G. Julian.