D. C. Stephenson to Clarence Darrow, November 2, 1928
Image provided by the Indiana State Library.
Click on the image to view as a PDF. A transcription of the letter is on the right.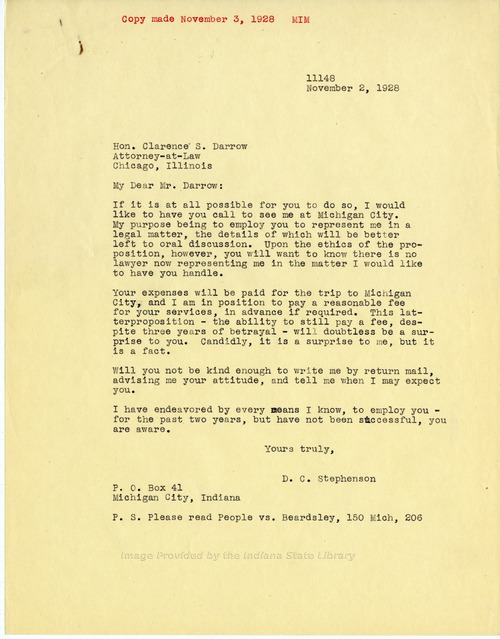 Copy made November 3, 1928
11148
November 2, 1928

Hon. Clarence Darrow
Attorney-at-Law
Chicago, Illinois
My Dear Mr. Darrow:
If it is at all possible for you to do so, I would like to have you call to see me at Michigan City. My purpose being to employ you to represent me in a legal matter, the details of which will be better left to oral discussion. Upon the ethics of the proposition, however, you will want to know there is no lawyer now representing me in the matter I would like to have you handle.
Your expenses will be paid for the trip to Michigan City, and I am in position to pay a reasonable fee for your services, in advance if required. This latterproposition - the ability to still pay a fee, despite three years of betrayal - will doubtless be a surprise to you. Candidly, it is a surprise to me, but it is a fact.
Will you not be kind enough to write me by return mail, advising me your attitude, and tell me when I may expect you.
I have endeavored by every means I know, to employ you – for the past two years, but have not been successful, you are aware.
Yours truly,
D. C. Stephenson
P.O. Box 41
Michigan City, Indiana
P.S. Please read People vs. Beardsley, 150 Mich, 206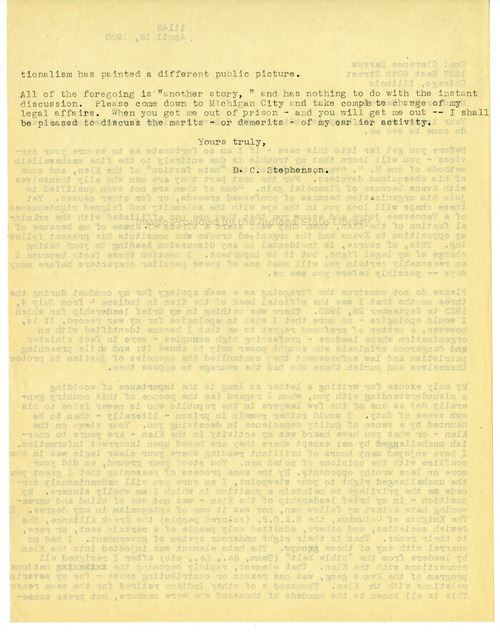 ntionalism has painted a different public picture.
All of the foregoing is "another story," and has nothing to do with the instant discussion. Please come down to Michigan City and take complete charge of my legal affairs. When you get me out of prison - and you will get me out -- I shall be pleased to discuss the merits - or demerits - of my earlier activity.
Yours truly,
D. C. Stephenson.