Paul Darrow to Irving Stone, July 23, 1941
Jessie Brownlee was Paul Darrow's mother and Clarence Darrow's first wife.
Click on the image to view as a PDF. A transcription of the letter is on the right.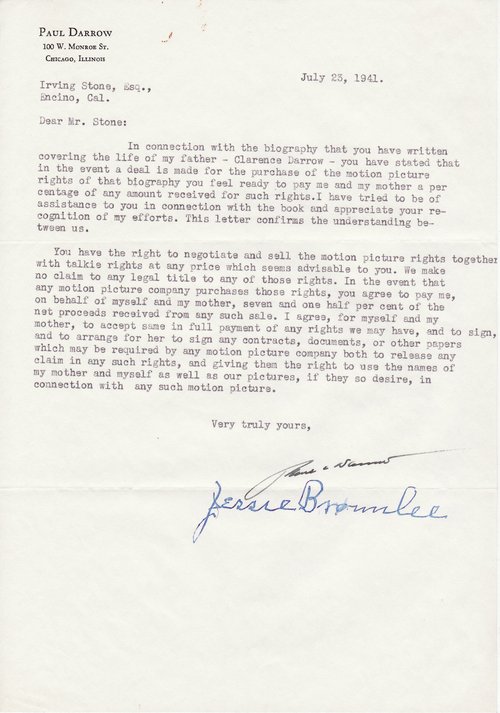 Paul Darrow
100 W. Monroe St.
Chicago, Illinois
July 23, 1941.
Irving Stone, Esq.
Encino, California
Dear Mr. Stone:
In connection with the biography that you have written covering the life of my father - Clarence Darrow - you have stated that in the event a deal is made for the purchase of the motion picture rights of that biography you feel ready to pay me and my mother a percentage of any amount received for such rights. I have tried to be of assistance to you in connection with the book and appreciate your recognition of my efforts. This letter confirms the understanding between us.
You have the right to negotiate and sell the motion picture rights together with talkie rights at any price which seems advisable to you. We make no claim to any legal title to any of those rights. In the event that any motion picture company purchases those rights, you agree to pay me, on behalf of myself and my mother, seven and one-half per cent of the net proceeds received from any such sale. I agree, for myself and my mother, to accept same in full payment of any rights we may have, and to sign, and to arrange for her to sign, any contracts, documents, or other papers which may be required by any motion picture company both to release any claim in any such rights, and giving them the right to use the names of my mother and myself as well as our pictures, if they so desire, in connection with any such motion picture.
Very truly yours,
Paul Darrow
Jessie Brownlee