Maurice Berkson to Paul Darrow, October 14, 1941
Click on the image to view as a PDF. A transcription of the letter is on the right.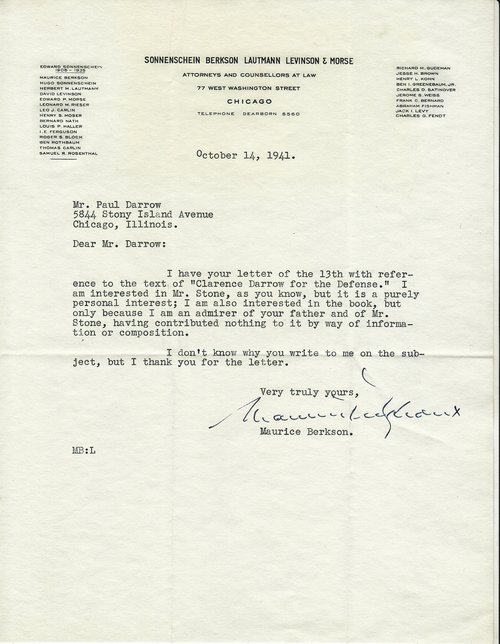 Sonnenschein Berkson Lautmann Levinson & Morse
Attorneys and Counselors at Law
77 West Washington Street
Chicago
Telephone Dearborn 8560

October 14, 1941
Edward Sonnenschein
1906 - 1935
Maurice Berkson
Hugo Sonnenschein
Herbert M. Lautmann
David Levinson
Edward P. Morse
Leonard M. Rieser
Leo J. Carlin
Henry S. Moser
Bernard Nath
Louis P. Haller
I.E. Ferguson
Roger S. Bloch
Ben Rothbaum
Thomas Carlin
Samuel R. Rosenthal
Richard M. Gudeman
Jesse H. Brown
Henry L. Kohn
Ben I. Greenebaum
Charles D. Satinover
Jerome S. Weiss
Frank C. Bernard
Abraham Fishman
Jack I. Levy
Charles G. Fendt
Mr. Paul Darrow
5844 Stony Island Avenue
Chicago, Illinois.
Dear Mr. Darrow:
I have your letter of the 13th with reference to the text of "Clarence Darrow for the Defense." I am interested in Mr. Stone, as you know, but it is a purely personal interest; I am also interested in the book, but only because I am an admirer of your father and of Mr. Stone, having contributed nothing to it by way of information or composition.
I don't know why you write to me on the subject, but I thank you for the letter.
Very truly yours,
Maurice Berkson.