William A. Baehr to Paul Darrow, February 26, 1913
Click on the image to view as a PDF. A transcription of the letter is on the right.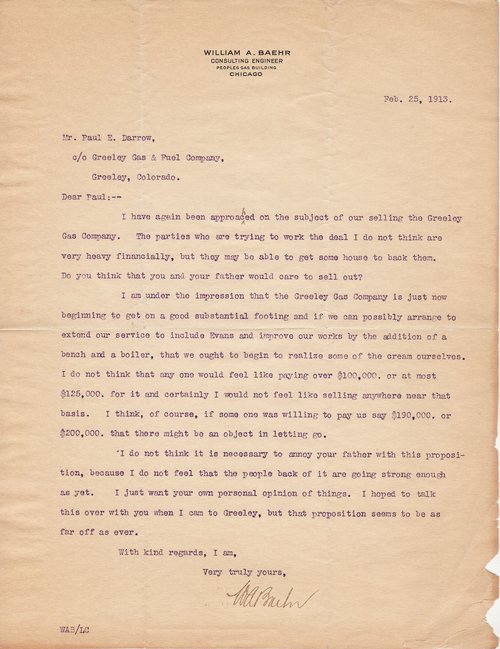 William A. Baehr
Conducting Engineer
Peoples Gas Building
CHICAGO

Feb. 25, 1913.
Mr. Paul E. Darrow,
c/o Greeley Gas & Fuel Company,
Greeley, Colorado.
Dear Paul:--
I have again been approached on the subject of our selling the Greeley Gas Company. The parties who are trying to work the deal I do not think are very heavy financially, but they may be able to get some house to back them. Do you think that you and your father would care to sell out?
I am under the impression that the Greeley Gas Company is just now beginning to get on a good substantial footing and if we can possibly arrange to extend our service to include Evans and improve our works by the addition of a bench and a boiler, that we ought to begin to realize some of the cream ourselves. I do not think that any one would feel like paying over $100,000. or at most $125,000. for it and certainly I would not feel like selling anywhere near that basis. I think, of course, if some one was willing to pay us say $190,000. or $200,000. that there might be an object in letting go.
I do not think it is necessary to annoy your father with this proposition, because I do not feel that the people back of it are going strong enough as yet. I just want your own personal opinion of things. I hoped to talk this over with you when I cam to Greeley, but that proposition seems to be as far off as ever.
With kind regards, I am,
Very truly yours,
WA Baehr
WAB/LC