Clarence Darrow to Nathan Leopold, March 9, ????
Image courtesy of McCormick Library of Special Collection, Northwestern University Library.
Click on the image to view as a PDF. A transcription of the letter is on the right.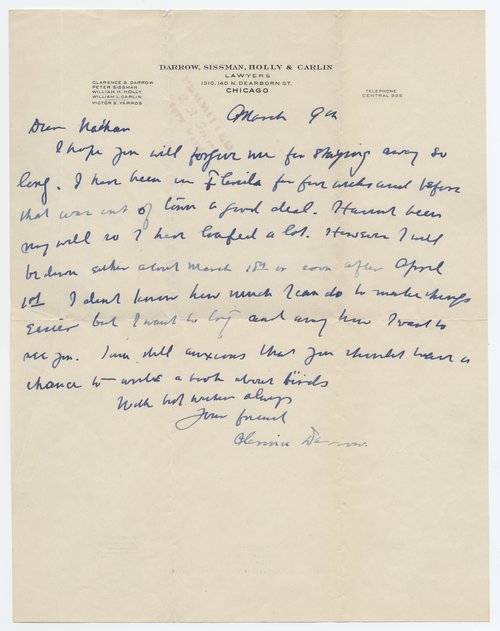 Darrow, Sissman, Holly & Carlin
Lawyers
1310, 140 N. Dearborn St
Chicago
March 9 th
Clarence S. Darrow
Peter Sissman
William H. Holly
William L. Carlin
Victor S. Yarros
Dear Nathan
I hope you will forgive me for staying away so long. I have been in Florida for five weeks and before that was out of town a good deal. Havent been very well so I have loafed a lot. However I will be down either about March 18th or even after April 1st I dont know how much I can do to make things easier but I want to try and any how I want to see you. I am still anxious that you should have a chance to write a book about birds.
With best wishes always
Your friend
Clarence Darrow