Clarence Darrow to Nathan Leopold, October 3, 1928
Image courtesy of McCormick Library of Special Collection, Northwestern University Library.
Click on the image to view as a PDF. A transcription of the letter is on the right.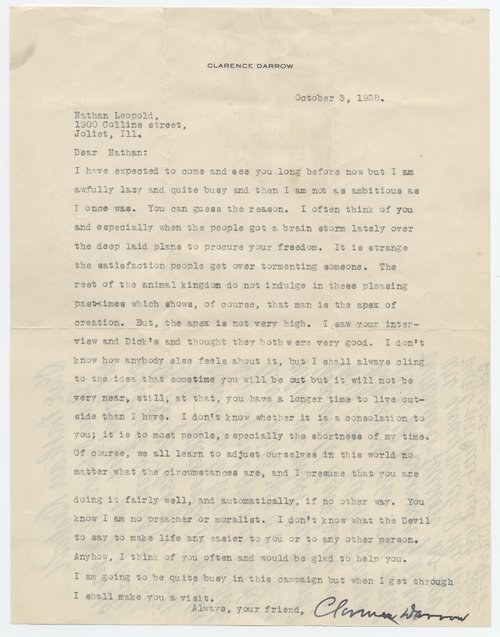 CLARENCE DARROW
October 3, 1928.
Nathan Leopold,
1900 Collins street,
Joliet, Ill.
Dear Nathan:
I have expected to come and see you long before now but I am awfully lazy and quite busy and then I am not as ambitious as I once was. You can guess the reason. I often think of you and especially when the people got a brain storm lately over the deep laid plans to procure your freedom. It is strange the satisfaction people get over tormenting someone. The rest of the animal kingdom do not indulge in these pleasing past-times which shows, of ncourse, that man is the apex of creation. But, the apex is not very high. I saw your interview and Dick's and thought they both were very good. I don't know how anybody else feels about it, but I shall always cling to the idea that sometime you will be out but it will not be very near, still, at that, you have a longer time to live outside than I have. I don't know whether it is a consolation to you; it is to most people, especially the shortness of my time. Of course, we all learn to adjust ourselves in this world no matter what the circumstances are, and I presume that you are doing it fairly well, and automatically, if no other way. You know I am no preacher or moralist. I don't know what the Devil to say to make life any easier to you or to any other person. Anyhow, I think of you often and would be glad to help you. I am going to be quite busy in this campaign but when I get through I shall make you a visit.
Always, your friend,
Clarence Darrow