William Dean Howells to Clarence Darrow, March 16, 1898
Click on the image to view as a PDF. A transcription of the letter is on the right.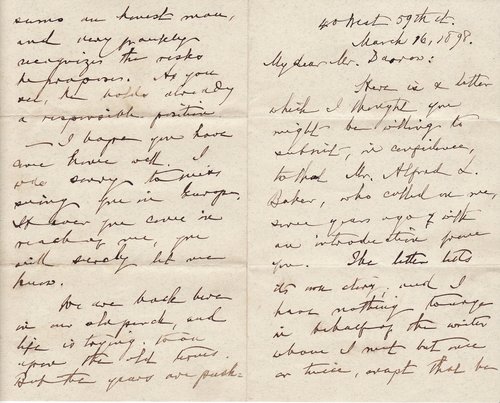 40 West 59th st.
March 16, 1898.
My dear Mr. Darrow:
Here is a letter which I thought you might be willing to submit, in confidence, to that Mr. Alfred L. Baker, who called on me, some years ago and with an introduction from you. The letter tells its own story; and I have nothing to urge in behalf of the writer whom I met but once or twice, except that he seems an honest man, and very frankly recognizes the risks he proposes. As you see, he hold already a responsible position. - I hope you have since [been?] [well?]. I [was?] sorry to miss seeing you in Europe. If ever you come in reach of me, you will surely let me know.
We are back here in our old perch and life is trying. To [?] you the old times. But the years are push=
=ing me along. I was sixty-one, the other day.
My wife joins me in best regards.
Yours sincerely
W.D. Howells