H. L. Mencken to Clarence Darrow, April 17, 1926
Click on the image to view as a PDF. A transcription of the letter is on the right.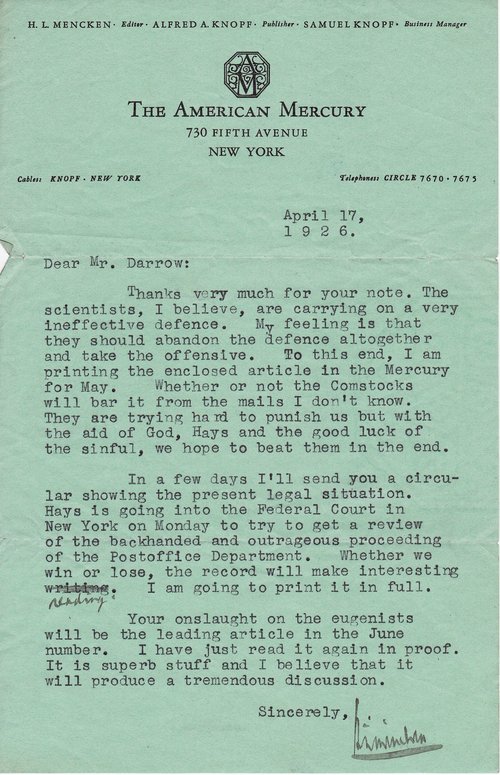 H. L. Mencken, Editor, Alfred A. Knoff, Publisher, Samuel Knoff, Business Manager

The American Mercury
730 Fifth Avenue
New York
Cables: Knoff, New York
Telephone: Circle 7670,7675
April 17,
1926.
Dear Mr. Darrow:
Thanks very much for your note. The scientists, I believe, are carrying on a very ineffective defence. My feeling is that they should abandon the defence altogether and take the offensive. To this end, I am printing the enclosed article in the Mercury for May. Whether or not the Comstocks will bar it from the mails I don't know. They are trying hard to punish us but with the aid of God, Hays and the good luck of the sinful, we hope to beat them in the end.
In a few days, I'll send you a circular showing the present legal situation. Hays is going into the Federal Court in New York on Monday to try to get a review of the backhanded and outrageous proceedings of the Postoffice Department. Whether we win or lose, the record will make interesting writing reading. I am going to print it in full.
Your onslaught on the eugenists will be the leading article in the June number. I have just read it again in proof. It is superb stuff and I believe that it will produce a tremendous discussion.
Sincerely,
H. L. Mencken