Howard Vincent O'Brien to Whitney Darrow, December 7, 1931
Click on the image to view as a PDF. A transcription of the letter is on the right.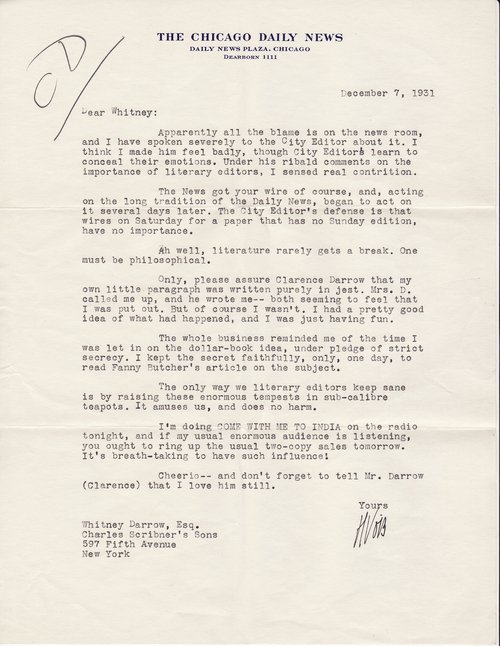 The Chicago Daily News
Daily News Plaza, Chicago
Dearborn 1111
December 7, 1931
Dear Whitney:
Apparently all the blame is on the news room, and I have spoken severely to the City Editor about it. I think I made him feel badly, though City Editors learn to conceal their emotions. Under his ribald comments on the importance of literary editors, I sensed real contrition.
The News got your wire of course, and, acting on the long tradition of the Daily News, began to act on it several days later. The City Editor's defense is that wires on Saturday for a paper that has no Sunday edition, have no importance.
Ah well, literature rarely gets a break. One must be philosophical.
Only, please assure Clarence Darrow that my own little paragraph was written purely in jest. Mrs. D. called me up, and he wrote me-- both seeming to feel that I was put out. But of course I wasn't. I had a pretty good idea of what had happened, and I was just having fun.
The whole business reminded me of the time I was let in on the dollar-book idea, under pledge of strict secrecy. I kept the secret faithfully, only, one day, to read Fanny Butcher's article on the subject.
The only way we literay editors keep sane is by raising these enormous tempests in sub-calibre teapots. It amuses us, and does no harm.
I'm doing COME WITH ME TO INDIA on the radio tonight, and if my usual enormous audience is listening, you ought to ring up the usual two-copy sales tomorrow. It's breath-taking to have such influence!
Cheerio--and don't forget to tell Mr. Darrow (Clarence) that I love him still.
Yours
HVOB
Whitney Darrow, Esq.
Charles Scribner's Sons
597 Fifth Avenue
New York