Clarence Darrow to Thomas A. Nixon, September 20, 1923
Click on the image to view as a PDF. A transcription of the letter is on the right.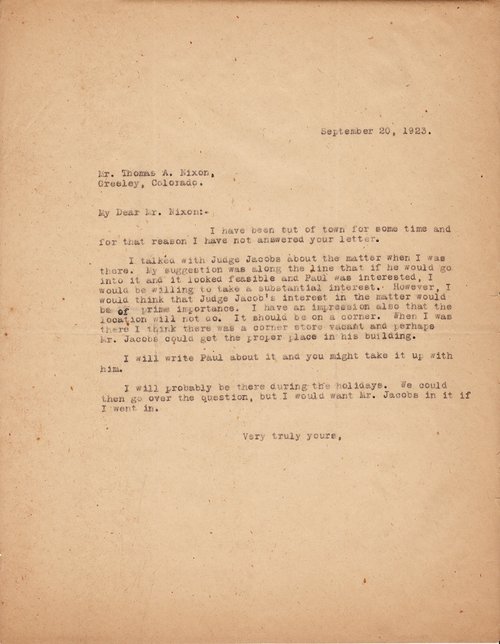 September 20, 1923.
Mr. Thomas A. Nixon,
Greeley, Colorado.
My dear Mr. Nixon:-
I have been out of town for some time and for that reason I have not answered your letter.
I talked with Judge Jacobs about the matter when I was there. My suggestion was along the line that if he would go into it and it looked feasible and Paul was interested, I would be willing to take a substantial interest. However, I would think that Judge Jacob's interest in the matter would be of prime importance. I have an impression also that the location will not do. It should be on a corner. When I was there I think there was a corner store vacant and perhaps Mr. Jacobs could get the proper place in his building.
I will write Paul about it and you might take it up with him.
I will probably be there during the holidays. We could then go over the question, but I would want Mr. Jacobs in it if I went in.
Very truly yours,