Philip F. La Follette to Clarence Darrow, January 14, 1932
Click on the image to view as a PDF. A transcription of the letter is on the right.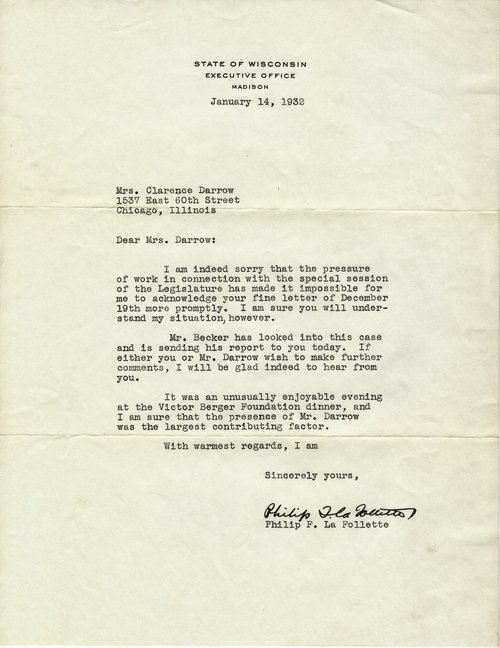 State of Wisconsin
Executive Office
Madison
January 14, 1932
Mrs. Clarence Darrow
1537 East 60th Street
Chicago, Illinois
Dear Mrs. Darrow:
I am indeed sorry that the pressure of work in connection with the special session of the Legislature has made it impossible for me to acknowledge your fine letter of December 19th more promptly. I am sure you will understand my situation, however.
Mr. Becker has looked into this case and is sending his report to you today. If either you or Mr. Darrow wish to make further comments, I will be glad indeed to hear from you.
It was an unusually enjoyable evening at the Victor Berger Foundation dinner, and I am sure that the presence of Mr. Darrow was the largest contributing factor.
With warmest regards, I am
Sincerely yours,
Philip F. La Follette