Frederick D. Gardner to Clarence Darrow, March 27, 1913
Clarence Darrow wrote in his autobiography The Story of My Life : "The jury in this second case remained out several days, and then reported a disagreement, and were discharged. I had then been in Los Angeles nearly two years. For about a year I had been fighting for myself. I had no money left, and had already borrowed about twenty thousand dollars from friends in various parts of the country, mainly Chicago. I felt discouraged and disheartened. That night I received a telegram which read as follows: "St. Louis, Missouri. Clarence Darrow, Los Angeles, California: I hear that you have spent most of your life defending men for nothing and that you are now broke and facing another trial. I will let you have all the money you need for the case. Am now sending draft for one thousand dollars. Frederick D. Gardner." The name was utterly unknown to me. This came from a total stranger. My eyes filled with tears. This was twenty years ago, and as I recall this telegram and the signature the tears are in my eyes once more along with the rest of that agonizing past."

"In a day or so a letter came containing the cheque for a thousand dollars from my unknown friend, Frederick D. Gardner, of St. Louis, and in the envelope was also a cheque from his wife for two hundred dollars. I used that money, but the case was soon afterward dismissed so that I did not need further help. There is a deep gulf between blank despair and the illusion of hope and comfort and confidence. Though the gulf between them is deep, often there is but a step across. I went home from the disagreement of the jury, sad and discouraged, but when I received the telegram from Mr. Gardner, and the letter, the sun shone bright again and the birds were singing in the trees."
Click on the image to view as a PDF. A transcription of the letter is on the right.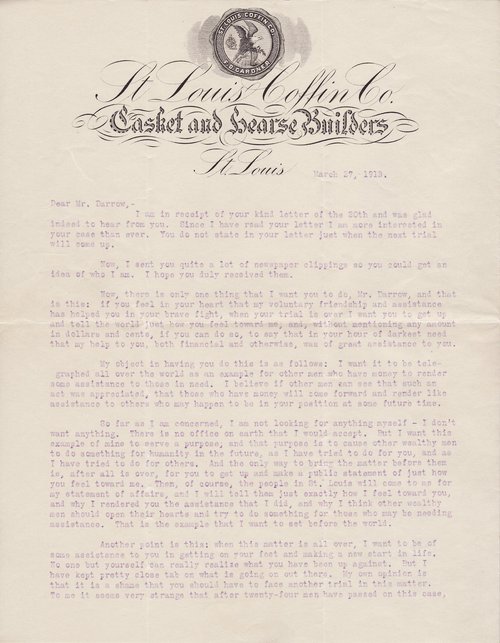 St. Louis Coffin Co.
Casket and Hearse Builders
St. Louis.
March 27, 1913.
Dear Mr. Darrow,-
I am in receipt of your kind letter of the 20th and was glad indeed to hear from you. Since I have read your letter I am more interested in your case than ever. You do not state in your letter just when the next trial will come up.
Now, I sent you quite a lot of newspaper clippings so you could get an idea of who I am. I hope you duly received them.
Now, there is only one thing that I want you to do, Mr. Darrow, and that is this: if you feel in your heart that my voluntary friendship and assistance has helped you in your brave fight, when your trial is over I want you to get up and tell the world just how you feel toward me, and, without mentioning any amount in dollars and cents, if you can do so, to say that in your hour of darkest need that my help to you, both financial and otherwise, was of great assistance to you.
My object in having you do this is as follows: I want it to be telegraphed all over the world as an example for other men who have money to render some assistance to those in need. I believe that if other men can see that such an act was appreciated, that those who have money will come forward and render like assistance to others who may happen to be in your position at some future time.
So far as I am concerned, I am not looking for anything myself - I don't want anything. There is no office on earth that I would accept. But I want this example of mine to serve a purpose; and that purpose is to cause other wealthy men to do something for humanity in the future, as I have tried to do for you, and as I have tried to do for others. And the only way to bring the matter before them is, after all is over, for you to get up and make a public statement of just how you feel toward me. Then, of course, the people in St. Louis will come to me for my statement of affairs, and I will tell them just exactly how I feel toward you, and why I rendered you the assistance that I did, and why I think other wealthy men should open their hearts and try to do something for those who may be needing assistance. That is the example that I want to set before the world.
Another point is this: when this matter is all over, I want to be of some assistance to you in getting on your feet and making a new start in life. No one but yourself can really realize what you have been up against. But I have kept pretty close tab on what is going on out there. My own opinion is that it is a shame that you should have to face another trial in this matter. To me it seems very strange that after twenty-four men have passed on this case,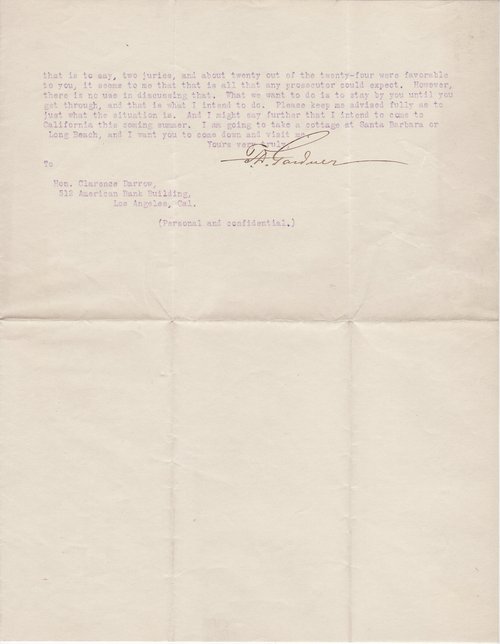 that is to say, two juries, and about twenty out of the twenty-four were favorable to you, it seems to me that that is all that any prosecutor could expect. However, there is no use in discussing that. What we want to do is to stay by you until you get through, and that is what I intend to do. Please keep me advised fully as to just what the situation is. And I might say further that I intend to come to California this coming summer. I am going to take a cottage at Santa Barbara or Long Beach, and I want you to come down and visit me,
Yours very truly,
F.D. Gardner
to
Hon. Clarence Darrow,
512 American Bank Building,
Los Angeles, Cal.
(Personal and confidential.)