Upton Sinclair to Clarence Darrow, September 23, 1905
Sinclair is referring to his book "The Jungle." The book, about the extremely unsanitary and dangerous conditions and prevalent corruption in Chicago's meat slaughtering and processing plants, was published in 1906. Sinclair had originally intended the book to expose the harsh and unfair working conditions endured by the poor, especially immigrants. But the general public found the exposure of the unsanitary and dangerous food handling practices even more sensational and disgusting. The book was so influential it is credited with leading to passage of the federal Meat Inspection Act and the Pure Food and Drug Act of 1906, which led to the establishment of the Food and Drug Administration.
Click on the image to view as a PDF. A transcription of the letter is on the right.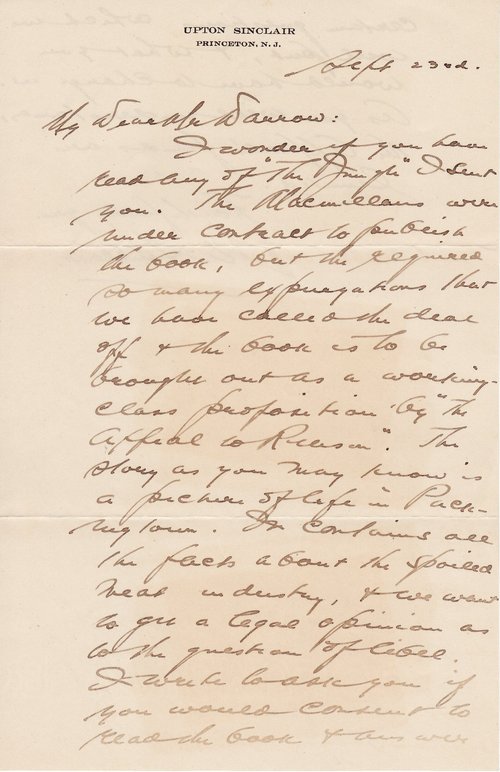 Upton Sinclair
Princeton, N.J.
Sept 23rd.
My Dear Mr Darrow:
I wonder if you have read any of "The Jungle" I sent you. The Macmillans were under contract to publish the book, but they required so many expurgations that we have called the deal off & the book is to be brought out as a working-class proposition by "The Appeal to Reason." The story as you may know is a picture of life in Packing town. It contains all the facts about the spoiled meat industry, & we want to get a legal opinion as to the question of libel. I write to ask you if you would consent to read the book & answer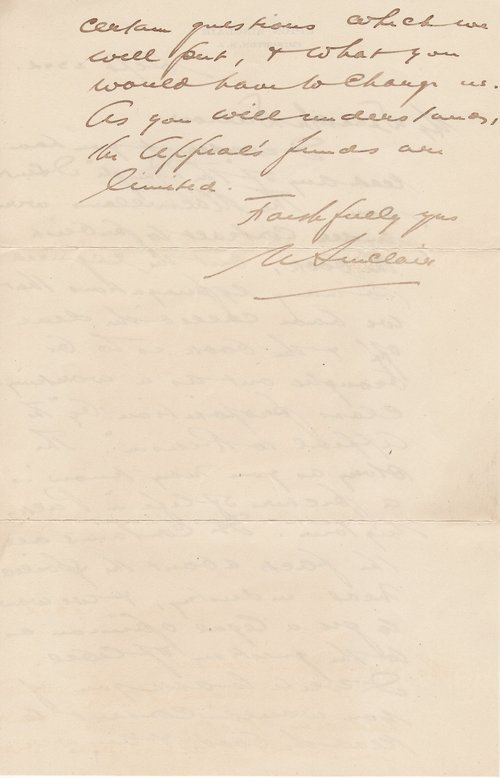 certain questions which we will put, & what you would have to charge us. As you will understand, the Appeal's funds are limited.
Faithfully yours
U Sinclair