Edgar Watson Howe to Clarence Darrow, July 5, 1929
Click on the image to view as a PDF. A transcription of the letter is on the right.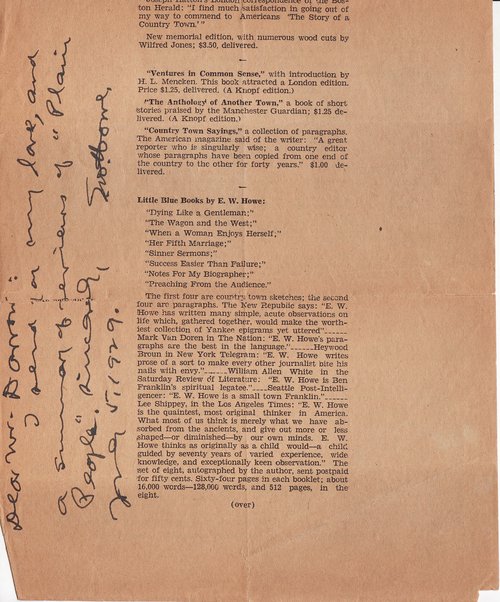 Dear Mr. Darrow:
I send you my love, and
a summary of reviews of "Plain
People." Sincerely,
E.W. Howe
July 5, 1929.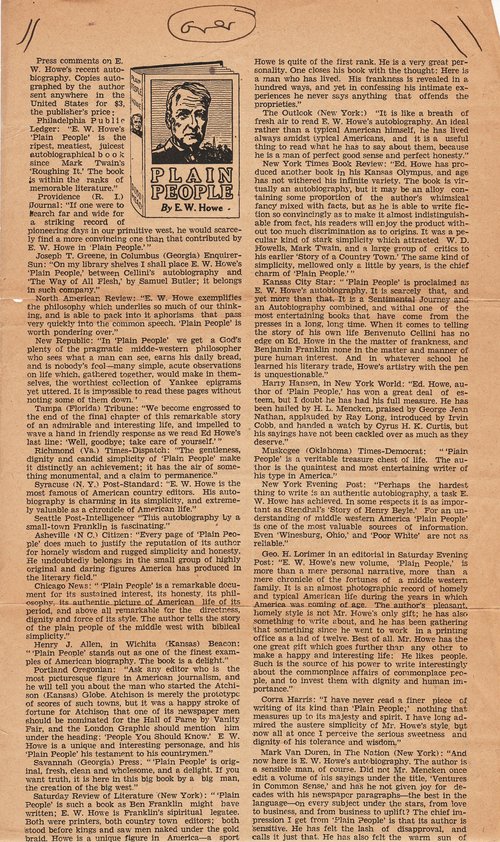 Press comments on E. W. Howe's recent autobiography. Copies autographed by the author sent anywhere in the United States for $3, the publisher's price:
Philadelphia Public Ledger: "E. W. Howe's 'Plain People' is the ripest, meatiest, juicest autobiographical book since Mark Twain's 'Roughing It.' The book is within the ranks of memorable literature."
Providence (R. I.) Journal: "If one were to search far and wide for a striking record of pioneering days in our primitive west, he would scarcely find a more convincing one than that contributed by E. W. Howe in 'Plain People.'"
Joseph T. Greene, in Columbus (Georgia) Enquirer-Sun: "On my library shelves I shall place E. W. Howe's 'Plain People,' between Cellini's autobiography and 'The Way of All Flesh,' by Samuel Butler; it belongs in such company."
North American Review: "E. W. Howe exemplifies the philosophy which underlies so much of our thinking, and is able to pack into it aphorisms that pass very quickly into the common speech. 'Plain People' is worth pondering over."
New Republic: "In 'Plain People' we get a God's plenty of the pragmatic midde-western philosopher who sees what a man can see, earns his daily bread, and is nobody's fool - many simple acute observations on life which, gathered together, would make in themselves, the worthiest collection of Yankee epigrams yet uttered. It is impossible to read these pages without noting some of them down."
Tampa (Florida) Tribune: "We become engrossed to the end of the final chapter of this remarkable story of an admirable and interesting life, and impelled to wave a hand in friendly response as we read Ed Howe's last line: 'Well, goodbye; take care of yourself.'"
Richmond (Va.) Times-Dispatch: "The gentleness, dignity and candid simplicity of 'Plain People' make it distinctly an achievement; it has the air of something monumental, and a claim to permanence."
Syracuse (N.Y.) Post-Standard: "E. W. Howe is the most famous of American country editors. His autobiography is charming in its simplicity, and extremely valuable as a chronicle of American life."
Seattle Post-Intelligencer "This autobiography by a small-town Franklin is fascinating."
Asheville (N.C.) Citizen: "Every page of 'Plain People' does much to justify the reputation of its author for homely wisdom and rugged simplicity and honesty. He undoubtedly belongs in the small group of highly original and daring figures America has produced in the literary field."
Chicago News: "'Plain People' is a remarkable document for its sustained interest, its honesty, its philosophy, its authentic picture of American life of its period, and above all remarkable for the directness, dignity and force of its style. The author tells the story of the plain people of the middle west with biblical simplicity."
Henry J. Allen, in Wichita (Kansas) Beacon: "'Plain People' stands out as one of the finest examples of American biography. The book is a delight."
Portland Oregonian: "Ask any editor who is the most picturesque figure in American journalism, and he will tell you about the man who started the Atchison (Kansas) Globe. Atchison is merely the prototype of scores of such towns, but it was a happy stroke of fortune for Atchison that one of its newspaper men should be nominated for the Hall of Fame by Vanity Fair, and the London Graphic should mention him under the heading: 'People You Should Know.' E. W. Howe is a unique and interesting personage, and his 'Plain People' his testament to his countrymen."
Savannah (Georgia) Press: "'Plain People' is original, fresh, clean and wholesome, and a delight. If you want truth, it is here in this big book by a big man, the creation of the big west."
Saturday Review of Literature (New York): "'Plain People' is such a book as Ben Franklin might have written; E. W. Howe is Franklin's spiritual legatee. Both were printers, both country town editors; both stood before kings and saw men naked under the gold braid. Howe is a unique figure in America - a sport
Howe is quite of the first rank. He is a very great personality. One closes his book with the thought: Here is a man who has lived. His frankness is revealed in a hundred ways, and yet in confessing his intimate experiences he never says anything that offends the proprieties."
The Outlook (New York:) "It is like a breath of fresh air to read E. W. Howe's autobiography. An ideal rather than a typical American himself, he has lived always amidst typical Americans, and it is a useful thing to read what he has to say about them, because he is a man of perfect good sense and perfect honesty."
New York Times Book Review: "Ed. Howe has produced another book in his Kansas Olympus, and age has not withered his infinite variety. The book is virtually an autobiography, but it may be an alloy containing some proportion of the author's whimsical fancy mixed with facts, but as he is able to write fiction so convincingly as to make it almost indistinguishable from fact his readers will enjoy the product without too much discrimination as to origins. It was a peculiar kind of stark simplicity which attracted W. D. Howells, Mark Twain, and a large group of critics to his earlier 'Story of a country Town.' The same kind of simplicity, mellowed only a little by years, is the chief charm of 'Plain People.'"
Kansas City Star: "'Plain People' is proclaimed as E. W. Howe's autobiography. It is scarcely that, and yet more than that. It is a Sentimental Journey and an Autobiography combined, and withal one of the most entertaining books that have come from the presses in a long, long time. When it comes to telling the story of his own life Benvenuto Cellini has no edge on Ed. Howe in the matter of frankness, and Benjamin Franklin none in the matter and manner of pure human interest. And in whatever school he learned his literary trade, Howe's artistry with the pen is unquestionable."
Harry Hansen, in New York World: "Ed. Howe, author of 'Plain People,' has won a great deal of esteem, but I doubt he has had his full measure. He has been hailed by H. L. Mencken, praised by George Jean Nathan, applauded by Ray Long, introduced by Irvin Cobb, and handed a watch by Cyrus H. K. Curtis, but his sayings have not been cackled over as much as they deserve."
Muskogee (Oklahoma) Times-Democrat: "'Plain People' is a veritable treasure chest of life. The author is the quaintest and most entertaining writer of his type in America."
New York Evening Post: "Perhaps the hardest thing to write is an authentic autobiography, a task E. W. Howe has achieved. In some respects it is as important as Stendhal's 'Story of Henry Beyle.' For an understanding of middle western America 'Plain People' is one of the most valuable sources of information. Even 'Winesburg, Ohio,' and 'Poor White' are not as reliable."
Geo. H. Lorimer in an editorial in Saturday Evening Post: "E. W. Howe's new volume, 'Plain People,' is more than a mere personal narrative, more than a mere chronicle of the fortunes of a middle western family. It is an almost photographic record of homely and typical American life during the years in which America was coming of age. The author's pleasant, homely style is not Mr. Howe's only gift; he has also something to write about, and he has been gathering that something since he went to work in a printing office as a lad of twelve. Best of all, Mr. Howe has the one great gift which goes further than any other to make a happy and interesting life: He likes people. Such is the source of his power to write interestingly about the commonplace affairs of commonplace people, and to invest them with dignity and human importance."
Corra Harris: "I have never read a finer piece of writing of its kind than 'Plain People;' nothing that measures up to its majesty and spirit. I have long admired the austere simplicity of Mr. Howe's style but now all at once I perceive the serious sweetness and dignity of his tolerance and wisdom."
Mark Van Doren, in The Nation (New York): "And now here is E. W. Howe's autobiography. The author is a sensible man, of course. Did not Mr. Mencken once edit a volume of his saying under the title, 'Ventures in Common Sense,' and has he not given joy for decades with his newspaper paragraphs - the best in the language - on every subject under the stars, from love to business, and from business to uplift? The chief impression I get from 'Plain People' is that its author is sensitive. He has felt the lash of disapproval, and calls it just that. He has also felt the warm sun of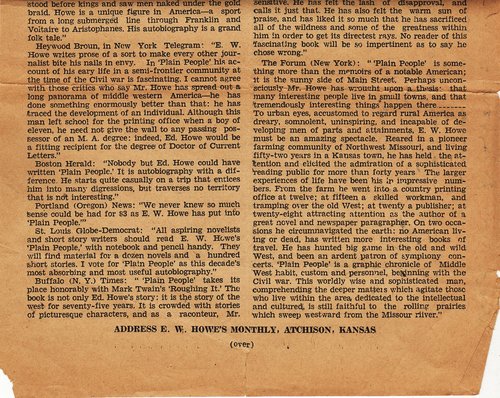 stood before kings and saw men naked under the gold braid. Howe is a unique figure in America'a sport from a long submerged line through Franklin and Voltaire to Aristophanes. His autobiography is a grand folk tale."
Heywood Broun, in New York Telegram: "E. W. Howe writes prose of a sort to make other journalist bite his nails in envy. In 'Plain People' his account of his eary life in a semi-frontier community at the time of the Civil war is fascinating. I cannot agree with those critics who say Mr. Howe has spread out a long panorama of middle western America - he has done something enormously better than that: he has traced the development of an individual. Although this man left school for the printing office when a boy of eleven, he need not give the wall to any passing possessor of an M.A. degree: indeed, Ed. Howe would be a fitting recipient for the degree of Doctor of Current Letters."
Boston Herald: "Nobody but Ed. Howe could have written 'Plain People.' It is autobiography with a difference. He starts quite casually on a trip that entices him into many digressions, but traverses no territory that is not interesting."
Portland (Oregon) News: "We never knew so much sense could be had for $3 as E. W. Howe has put into 'Plain People.'"
St. Louis Globe-Democrat: "All aspiring novelists and short story writers should read E. W. Howe's 'Plain People,' with notebook and pencil handy. They will find material for a dozen novels and a hundred short stories. I vote for 'Plain People' as this decade's most absorbing and most useful autobiography."
Buffalo (N.Y.) Times: "'Plain People' takes its place honorably with Mark Twain's 'Roughing It.' The book is not only Ed. Howe's story: it is the story of the west for seventy-five years. It is crowded with stories of picturesque characters, and as a raconteur, Mr.
sensitive. He has felt the lash of disapproval, and calls it just that. He has also felt the warm sun of praise, and has liked it so much that he has sacrificed all of the wildness and some of the greatness within him in order to get its directest rays. No reader of this fascinating book will be so impertinent as to say he chose wrong."
The Forum (New York): "'Plain People' is something more than the memoirs of a notable American; it is the sunny side of Main Street. Perhaps unconsciously Mr. Howe has wrought upon a thesis that many interesting people live in small towns, and that tremendously interesting things happen there. To urban eyes, accustomed to regard rural America as dreary, somnolent, uninspiring, and incapable of developing men of parts and attainments, E. W. Howe must be an amazing spectacle. Reared in a pioneer farming community of Northwest Missouri, and living fifty-two years in a Kansas town, he has held that attention and elicited the admiration of a sophisticated reading public for more than forth years. The larger experiences of life have been his in impressive numbers. From the farm he went into a country printing office at twelve; at fifteen a skilled workman, and tramping over the old West; at twenty a publisher; at twenty-eight attracting attention as the author of a great novel and newspaper paragrapher. On two occasions he circumnavigated the earth: no American living or dead, has written more interesting books of travel. He has hunted big game in the old and wild West, and been an ardent patron of symphony concerts. 'Plain People' is a graphic chronicle of Middle West habit, custom and personnel, beginning with the Civil war. This worldly wise and sophisticated man, comprehending the deeper matters which agitate those who live within the area dedicated to the intellectual and cultured is still faithful to the rolling prairies which sweep westward from the Missour riiver."