Alex Kent to Clarence Darrow, February 15, 1906
Click on the image to view as a PDF. A transcription of the letter is on the right.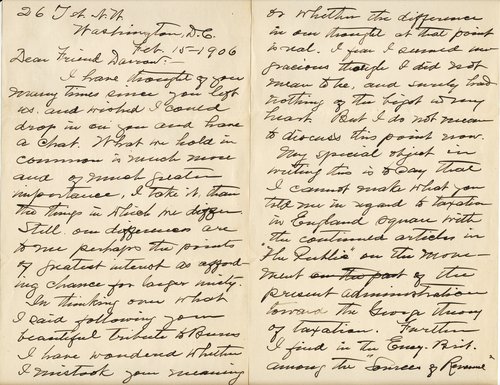 26 [?] [?] W.
Washington, D.C.
Dear Friend Darrow: -
I have thought of you many times since you left us and wished I could drop in on you and have a chat. What we hold in common is much more and of much greater importance, I take it than the things in which we differ. Still our differences are to me perhaps the points of greatest interest as affording chance for longer [larger?] [?].
In thinking over what I said following your beautiful tribute to Burns I have wondered whether I have mistook your meaning or whether the difference in our thought at that point is real. I fear I seemed ungracious though I did not mean to be, and surely had nothing of the [?] [?] heart. But I do not mean to discuss this point now.
My special object in writing this is to say that I cannot make what you told me in regard to taxation in England square with the continued articles in "The Public" on the movement of the present administration toward The George theory of taxation. Furthermore, I find in the [Eng.?] Brit. among the "Sources of Revenue"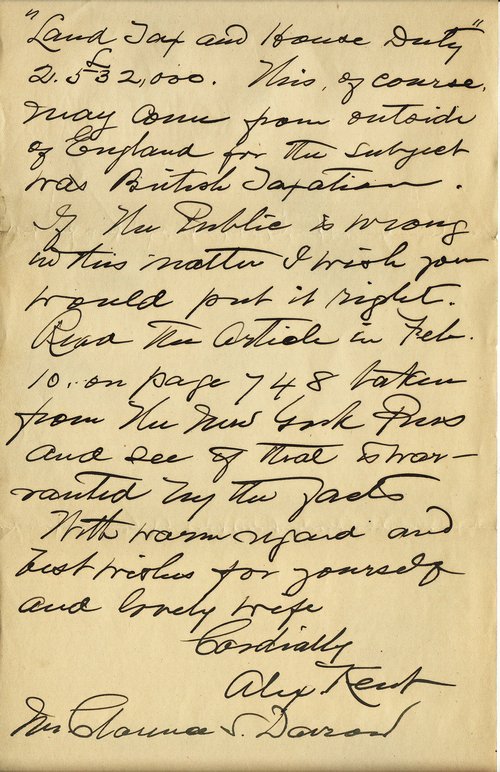 "Land tax and House Duty" 2.532,000. This of course, may come from outside of England for the subject was British Taxation. If The Public is wrong in this matter I wish you would put it right. Read the article on Feb. 10. on page 748 taken from the New York Press and see if that is warranted by the facts.
With warm regard and best wishes for yourself and lovely wife,
Cordially,
Alex Kent
Mr. Clarence Darrow