Carl Laemmle to Clarence Darrow, March 1, 1932
Click on the image to view as a PDF. A transcription of the letter is on the right.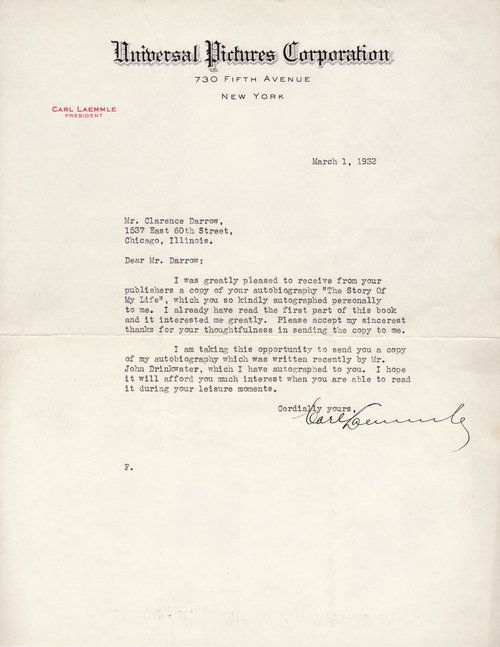 Universal Pictures Corporation
730 Fifth Avenue
New York
Carl Laemmle
President
March 1, 1932
Mr Clarence Darrow
1537 East 60th Street, Chicago, Illinois.
Dear Mr Darrow:
I was greatly pleased to receive from your publishers a copy of your autobiography "The Story Of My Life", which you so kindly autographed personally to me. I have already read the first part of this book and it interested me greatly. Please accept my sincerest thanks for your thoughtfulness in sending the copy to me.
I am taking this opportunity to send you a copy of my autobiography which was written recently by Mr. John Drinkwater, which I have autographed to you. I hope it will afford you much interest when you are able to read it during your leisure moments.
Cordially yours,
Carl Laemmle