Henry Ford to Clarence Darrow, October 20, 1926
Beginning in 1916 Ford created a trade school near his car factory. About 8,000 students eventually graduated from the trade school. Ford was a strong advocate of an educational system that offered vocational and cultural training. Darrow reportedly said of Ford's experimental school system "If schools of this type could reach all of the youth of America, in time it would result in the abolition of crime and poverty, both of which are a disgrace to civilization."
Clarence Darrow did read McGuffey Readers in grade school. Darrow wrote in his autobiography: "I know that I began at the primer and read over and over the McGuffey readers, up to the sixth, while at the district school. I have often wondered if there was such a man as Mr. McGuffey and what he looked like. To me his name suggested side-whiskers which, in Kinsman, meant distinction. I never could understand how he learned so much and how he could have been so good. I am sure that no set of books ever came from any press that was so packed with love and righteousness as were those readers. Their religious and ethical stories seem silly now, but at that time it never occurred to me that those tales were utterly impossible lies which average children should easily have seen through. McGuffey furnished us many choice and generally poetical instructions on conduct and morals ... From what I see and hear of the present generation I should guess that Doctor McGuffey and his ilk lived in vain."
Click on the image to view as a PDF. A transcription of the letter is on the right.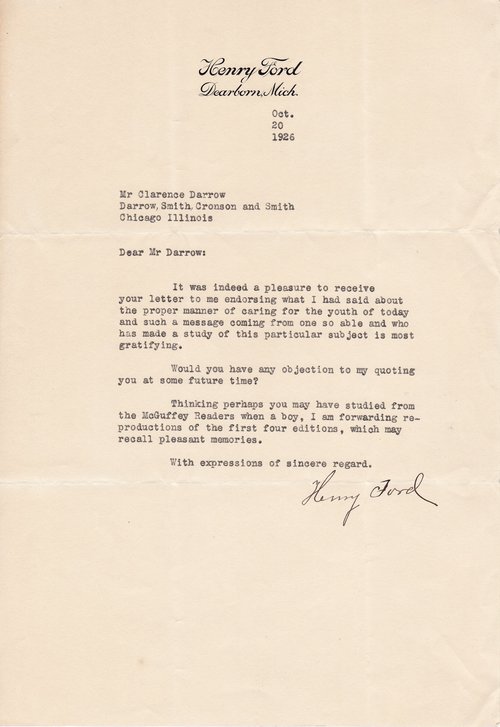 Henry Ford,
Dearborn, Mich.
Oct.
20
1926
Mr. Clarence Darrow
Darrow, Smith, Cronson and Smith
Chicago Illinois
Dear Mr. Darrow:
It was indeed a pleasure to receive your letter to me endorsing what I had said about the proper manner of caring for the youth of today and such a message coming from one so able and who has made a study of this particular subject is most gratifying.
Would you have any objection to my quoting you at some future time?
Thinking perhaps you may have studied from the McGuffey Readers when a boy, I am forwarding reproductions of the first four editions, which may recall pleasant memories.
With expressions of sincere regard.
Henry Ford