William Dean Howells to Clarence Darrow, November 20, 1903
Howells is referring to Darrow's semi-autobiographical novel Farmington that would be published in 1904. It was first published by A. C. McClurg & Co., a publisher in Chicago made famous by its original publishing of the works of Edgar Rice Burroughs, including his Tarzan of the Apes novels.
Click on the image to view as a PDF. A transcription of the letter is on the right.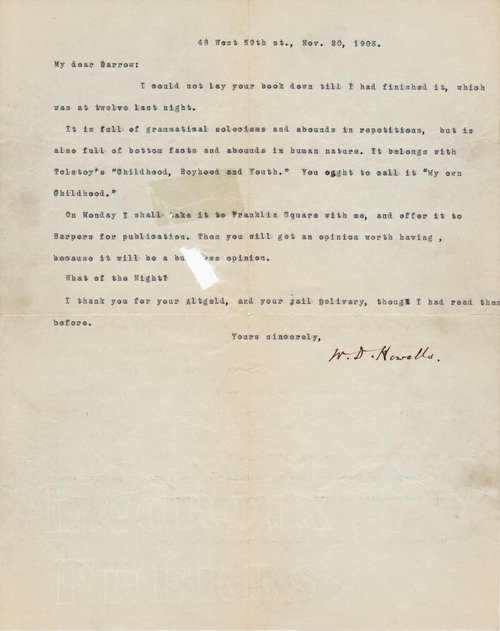 48 West 59th st., Nov. 20, 1903.
My dear Darrow:
I could not lay your book down till I had finished it, which was at twelve last night.
It is full of grammatical solecisms and abounds in repetitions, but is also full of bottom facts and abounds in human nature. It belongs with Tolstoy's "Childhood, Boyhood and Youth." You ought to call it "My own Childhood."
On Monday I shall take it to Franklin Square with me, and offer it to Harpers for publication. Then you will get an opinion worth having, because it will be a [business] opinion.
What of the Night?
I thank you for your Altgeld, and your jail Delivery, though I had read them before.
Yours sincerely,
W.D. Howells.