Philip F. La Follette to Clarence Darrow, October 26, 1931
Click on the image to view as a PDF. A transcription of the letter is on the right.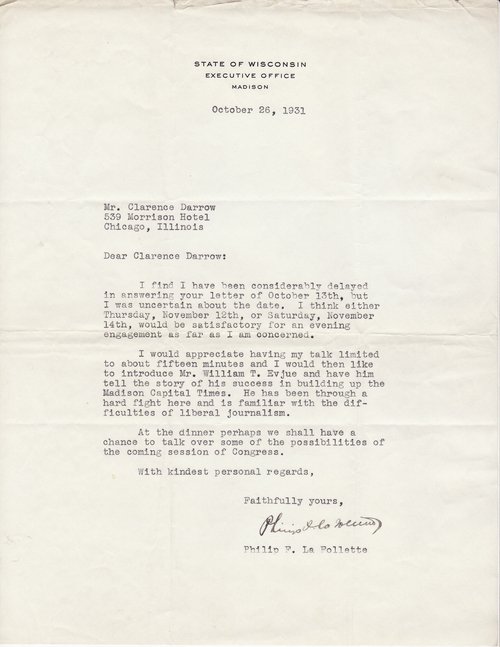 State of Wisconsin
Executive Office
Madison
October 26, 1931
Mr. Clarence Darrow
539 Morrison Hotel
Chicago, Illinois
Dear Clarence Darrow:
I find I have been considerably delayed in answering your letter of October 13th, but I was uncertain about the date. I think either Thursday, November 12th, or Saturday November 14th, would be satisfactory for an evening engagement as far as I am concerned.
I would appreciate having my talk limited to about fifteen minutes and I would then like to introduce Mr. William T. Evjue and have him tell the story of his success in building up the Madison Capital Times. He has been through a hard fight here and is familiar with the difficulties of liberal journalism.
At the dinner perhaps we will have a chance to talk over some of the possibilities of the coming session of Congress.
With kindest personal regards,
Faithfully yours,
Philip F. La Follette