W. A. White to Clarence Darrow, September 30, 1905
White is referring to his article, "The Golden Rule," 96 Atlantic Monthly , pp. 433-441 (October, 1905).
Click on the image to view as a PDF. A transcription of the letter is on the right.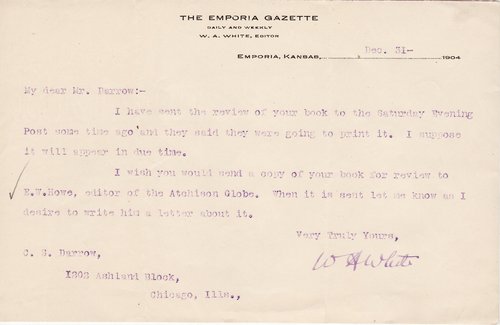 The Emporia Gazette
Daily and Weekly
W.A. White, Editor
Sept. 30-1905.
My dear Mr. Darrow:-
I don't very often bother my acquaintances by asking them to read what I write, but this month the Atlantic Monthly is printing an article of mine which I am particularly anxious to have you see. The first page or two may tire you, but I hope you will not be discouraged, and when you have the time, will wade through it.
I hope to make it the introductory essay to a short series in which , as well as I can, I hope to set down, what seems to be the current economic morals of the country at this time.
Truly,
W.A. White
Mr. Clarence Darrow
Corporation Counsel,
Chicago, Illinois.