William English Walling to Clarence Darrow, April 11, 1910
Walling's statement about Darrow being invited to speak on the 12th is in reference to the second annual National Negro Conference held in New York from May 12-14, 1910. Most meetings at the conference were closed but there was a public meeting on the evening of the 12th featuring Clarence Darrow, Congressman William S. Bennett, Reverend Reverdy Ransom, Mrs. Ida Wells-Barnett and Ray Stannard Baker. At this meeting in New York, the National Negro Conference adopted a plan of permanent organization and became the National Association for the Advancement of Colored People (NAACP).
Click on the image to view as a PDF. A transcription of the letter is on the right.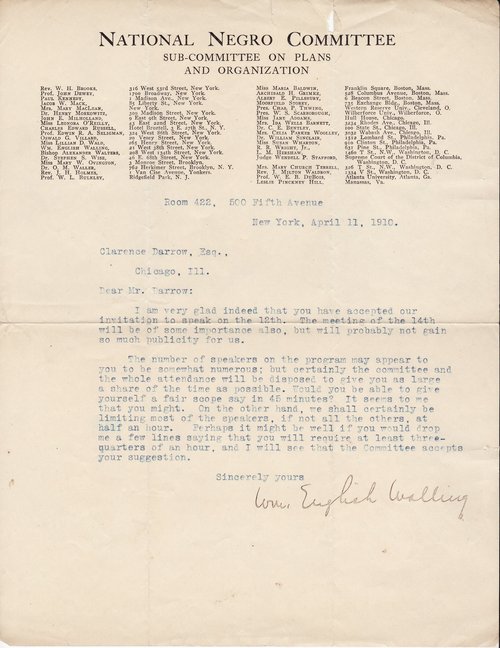 National Negro Committee
Sub-Committee on Plans
And Organization

Room 422, 500 Fifth Avenue
New York, April 11, 1910.
Clarence Darrow, Esq.,
Chicago, Ill.
Dear Mr. Darrow:
I am very glad indeed that you have accepted our invitation to speak on the 12th. The meeting of the 14th will be of some importance also, but will probably not gain so much publicity for us.
The number of speakers on the program may appear to you to be somewhat numerous; but certainly the committee and the whole attendance will be disposed to give you as large a share of the time as possible. Would you be able to give yourself a fair scope say in 45 minutes? It seems to me that you might. On the other hand, we shall certainly be limiting most of the speakers, if not all the others, at half an hour. Perhaps it might be well if you would drop me a few lines saying that you will require at least three-quarters of an hour, and I will see that the Committee accepts your suggestion.
Sincerely yours,
Wm. English Walling