Anita Loos to Clarence Darrow, June 6, 1926
Click on the image to view as a PDF. A transcription of the letter is on the right.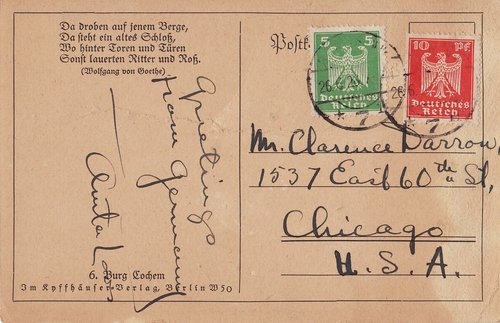 Da droben auf jenem Berge,
Da steht ein altes Schloß,
Wo hinter Toren und Türen
Sonst lauerten Ritter und Roß.
(Wolfgang von Goethe)

(Up there on that mountain
There is an old castle
Where behind gates and doors
Otherwise knights and roses lurked.)

Greetings from Germany
Anita Loos


6. Burg Cochem
3m Kyffhäuser. Berlag, Berlin W 50
Mr. Clarence Darrow
1537 East 60th Street,
Chicago,
U.S.A.