W. A. White to Clarence Darrow, December 31, 1904
Click on the image to view as a PDF. A transcription of the letter is on the right.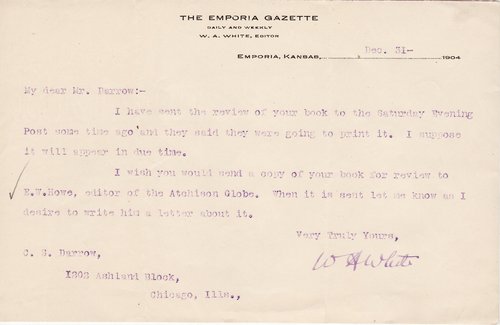 The Emporia Gazette
Daily and Weekly
W.A. White, Editor
Emporia, Kansas, Dec. 31- 1904
My dear Mr. Darrow:-
I have sent the review of your book to the Saturday Evening Post some time ago and they said they were going to print it. I suppose it will appear in due time.
I wish you would send a copy of your book for review to E.W. Howe, editor of the Atchison Globe. When it is sent let me know as I desire to write him a letter about it.
Very truly yours,
W.A. White
C.S. Darrow,
1202 Ashland Block,
Chicago, Ills.,