Arthur Brisbane to Clarence Darrow, September 11, 1905
Arthur Brisbane is referring to criminal libel charges against him for an editorial he wrote that was published on July 6, 1905 in the Evening Journal. The editorial criticized the actions of the Controller of the City of New York in regard to the purchase of the Montauk Theatre in Brooklyn for $500,000. Brisbane was arraigned in New York on July 14, 1905 for criminal libel. The prosecutor alleged that anyone reading the editorial would conclude that Controller Grout, who had one of the most important positions in New York, was "guilty of such gross dereliction in the discharge of his official functions as to be entirely unworthy of the respect of any decent man."
Click on the image to view as a PDF. A transcription of the letter is on the right.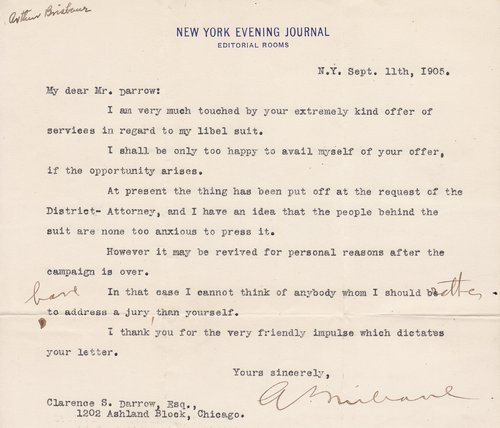 Arthur Brisbane
New York Evening Journal
Editorial Rooms

N.Y. Sept. 11th, 1905
My dear Mr. Darrow:
I am very much touched by your extremely kind offer of services in regard to my libel suit.
I shall be only too happy to avail myself of your offer, if the opportunity arises.
At present the thing has been put off at the request of the District-Attorney, and I have an idea that the people behind the suit are none too anxious to press it.
However it may be revived for personal reasons after the campaign is over.
In that case I cannot think of anybody whom I should rather have to address a jury, than yourself.
I thank you for the very friendly impulse which dictates your letter.
Yours sincerely,
A Brisbane
Clarence S. Darrow, Esq.,
1202 Ashland Block, Chicago.