Howard Vincent O'Brien to Clarence Darrow, December 12, 1931
Click on the image to view as a PDF. A transcription of the letter is on the right.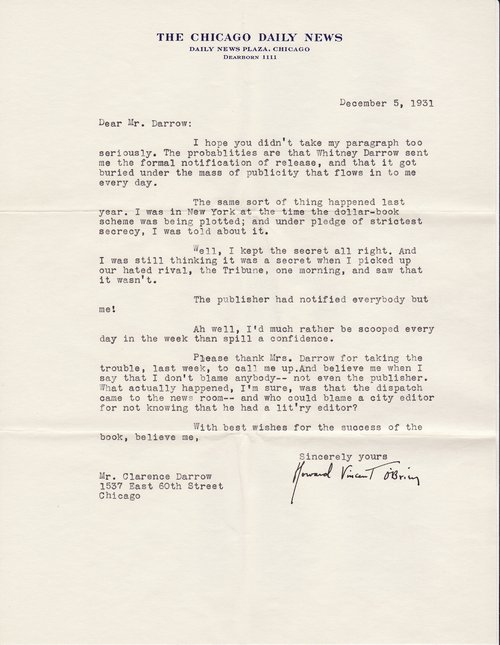 The Chicago Daily News
Daily News Plaza, Chicago
Dearborn 1111
December 5, 1931
Dear Mr. Darrow:
I hope you didn't take my paragraph too seriously. The probabilities are that Whitney Darrow sent me the formal notification of release, and that it got buried under the mass of publicity that flows in to me every day.
The same sort of thing happened last year. I was in New York at the time the dollar-book scheme was being plotted; and under pledge of strictest secrecy, I was told about it.
Well, I kept the secret all right. And I was still thinking it was a secret when I picked up our hated rival, the Tribune, one morning, and saw that it wasn't.
The publisher had notified everybody but me!
Ah well, I'd much rather be scooped every day in the week than spill a confidence.
Please thank Mrs. Darrow for taking the trouble, last week, to call me up. And believe me when I say that I don't blame anybody- - not even the publisher. What actually happened, I'm sure, was that the dispatch came to the news room-- and who could blame a city editor for not knowing that he had a lit'ry editor?
With best wishes for the success of the book, believe me,
Sincerely yours
Howard Vincent O'Brien
Mr. Clarence Darrow
1537 East 60th Street
Chicago