John Thomas Scopes to Clarence Darrow, February 14, 1927
Click on the image to view as a PDF. A transcription of the letter is on the right.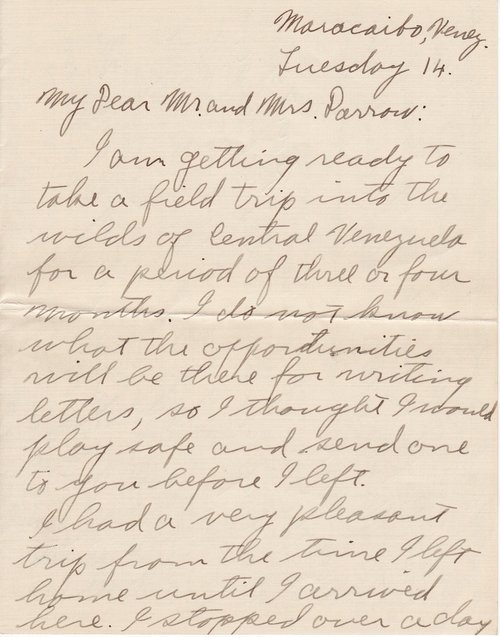 Maracaibo, Venez.
Tuesday 14.
My Dear Mr and Mrs Darrow:
I am getting ready to take a field trip into the wilds of Central Venezuela for a period of three or four months. I do not know what the opportunities will be there for writing letters, so I thought I would play safe and send one to you before I left.
I had a very pleasant trip from the time I left home until I arrived here. I stopped over a day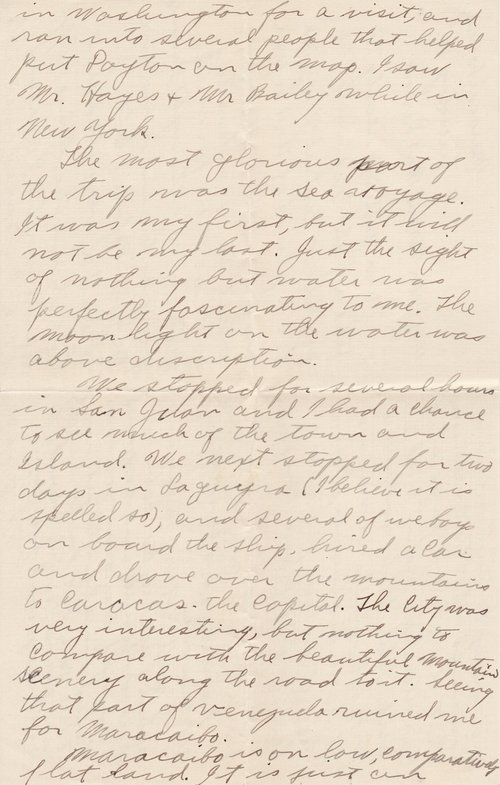 in Washington for a visit, and ran into several people that helped put Dayton on the map. I saw Mr. Hayes & Mr. Bailey while in New York.
The most glorious part of the trip was the sea voyage. It was my first, but it will not be my last. Just the sight of nothing but water was perfectly fascinating to me. The moonlight on the water was above description.
We stopped for several hours in San Juan and I had a chance to see much of the town and island. We next stopped for two days in La guyra (I believe it is spelled so), and several of we boys on board the ship hired a car and drove above over the mountains to Caracas-the capital. The city was very interesting but nothing to compare with the beautiful mountain scenery along the road to it. Seeing that part of Venezuela ruined me for Maracaibo.
Maracaibo is on low, comparatively flat land. It is first an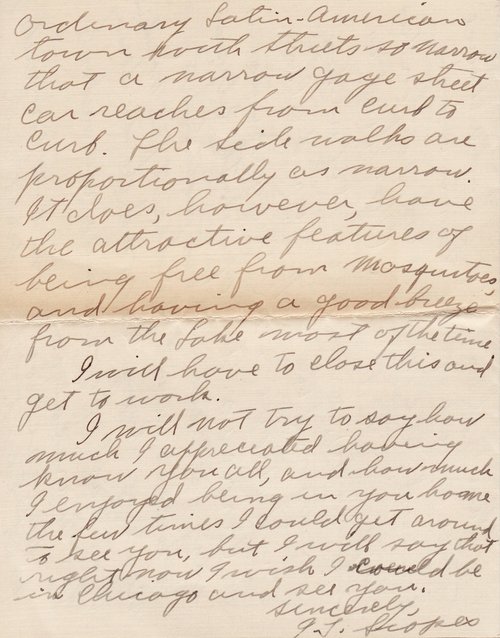 ordinary Latin-American town with streets so narrow that a narrow gage sheet car reaches from curb to curb. The side walks are proportionally as narrow. It does, however, have the attractive features of being free from mosquitoes, and having a good breeze from the lake most of the time.
I will have to close this and get to work.
I will not try to say how much I appreciated having know you all, and how much I enjoyed being in your home the few times I could get around to see you, but I will say that right now I wish I could be in Chicago and see you.
Sincerely,
JT. Scopes